Bike Accident Attorney in Abilene, TX
Experienced Bike-Riding Personal Injury Lawyer for Abilene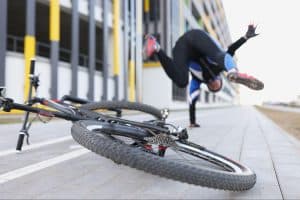 A collision with an automobile, a person, or even a fellow bicyclist has the potential to make it difficult to earn a living and live life to the fullest. The sheer weight of an automobile is enough to break bones and, in the worst-case scenario, end a life. The saving grace is Bill Shirer, Cyclist at Law. Bill, a cyclist himself, is passionate about obtaining justice on behalf of those involved in cycling accidents.
Tell Bill about your cycling accident in Abilene, and he will determine whether there is sufficient legal footing to file a personal injury lawsuit. The aim of such a lawsuit is to convince the opposition to float out a settlement offer. Whether your case ends in a settlement offer or a court award, the overarching purpose of taking legal action is to right this wrong as much as possible through financial compensation.
Determining Liability for a Bicycle Accident
Legal liability for a cycling accident hinges on several factors. It is possible that several parties are at fault. It is also possible that only one party is at fault. Cyclists typically have the right of way when traversing the roads. Therefore, motor vehicle operators are to treat cyclists similarly to pedestrians who are walking on the road. In the end, the determination of legal liability for your cycling accident has the potential to come down to the quality of the Abilene personal injury attorney you select. Choose the right attorney, and he or she will closely review the facts and evidence of your case, develop the optimal legal strategy, and do everything within the confines of the law to prove you have no legal liability and one or several other parties are fully liable.
However, even if you are found partially liable for the accident, that does not mean you won't be provided with financial compensation. Rather, you are still likely to receive financial compensation as long as one or multiple parties are at fault for the accident. In general, as long as a cyclist obeys the rules of the road, obeys traffic signal lights, and provides due care to others, he or she probably won't be found guilty. However, the manner in which your attorney presents the facts of the case and the corresponding legal argument has the potential to tip the scales of justice in your favor. Every cyclist should be aware of the fact that motor vehicle operators tend to be held to a higher standard of care than bike riders are, as cyclists are at a significant size and weight disadvantage on the road.
The outcome of your cycling accident case in Abilene hinges on whether your personal injury attorney can prove one or several other parties are negligent. Negligence is a term used by attorneys to refer to parties that do not provide the required level of care to those in their vicinity. There are some situations in which cyclists are considered to be contributory negligent after suffering injuries resulting from their own negligence. However, when you take a close look at the statistics of cycling accident cases, you will find drivers are determined negligent more often than cyclists. As long as the driver or other party in question is more than 50% at fault for the accident, he or she will likely be found legally liable, meaning you will likely receive financial compensation even though you were partially at fault.
Reach out to Bill Shirer, Esq., for a case review, and he will analyze your unique accident, gather evidence, coordinate witness testimony, and tirelessly work to ensure your case reaches a fair and just conclusion. So don't get into a lengthy conversation with the insurance company or the other party involved in the accident. Discuss your accident with Bill Shirer, Cyclist at Law, and let Bill spearhead your push for justice, and you can focus on rebuilding your body after this unfortunate incident.
Cyclist Laws in Abilene, TX
In general, Abilene and other Texas cyclists have the same responsibilities and rights as those who operate motor vehicles. Cyclists are required to ride along the right side of the road. The entirety of the lane can only be used when traveling at the same speed as traffic, passing, avoiding hazards, or prepping for a turn. For the most part, cyclists riding on sidewalks is prohibited though the rule varies by local ordinance. If not impeding traffic, cyclists can ride adjacent to one another though doing so is not advised, especially on Abilene roads known for a significant amount of traffic. Abilene cyclists are also required to signal by raising their arm and hand when coming to a stop or turning.
Car Drivers' Rights and Responsibilities to Cyclists
Automobile drivers have a duty of care to cyclists, pedestrians, fellow automobile operators, and others on the road. Drivers are required by law to treat cyclists with care, meaning they are to leave a minimum of three feet of space between their vehicle and the cyclist. Drivers must pass cyclists on the left rather than the right and wait to do so when there is an opportunity in a clear neighboring lane.
A driver's duty of care to cyclists and pedestrians is especially important at intersections and crosswalks as there is a heightened chance of an accident. Automobile operators are also required to check their blind spot before changing lanes as the weight of an automobile could crush a cyclist in mere seconds.
Cyclists' Rights and Responsibilities
Cyclists owe a duty of care to car drivers as well as cyclists and pedestrians. In general, cyclists have similar rights to automobile operators. Cyclists are to follow the Abilene cycling rules noted above. Bike riders are required to come to a complete stop at stop lights and stop signs. In fact, bike riders are even expected to slow down when approaching traffic lights that are yellow. Furthermore, cyclists are to do their part to keep the flow of traffic going without interference.
Cyclists in Abilene should be aware they cannot ride on the highways. Though it might seem obvious, it is also worth noting cyclists are required to signal with their arm/hand when turning or changing lanes, ideally 100 feet before executing that maneuver.
What to Do After a Bicycle Accident
If you are like most cycling accident victims, you are confused, in pain, and uncertain of what the future brings. Don't panic. Remain calm, reach out for emergency medical care, and contact the police. Use your smartphone to take pictures and video of the accident scene while waiting for the police and care providers to arrive. Record the information of the parties involved in the accident. However, it is a mistake to admit fault in any way during the postaccident discussions. Obtain the police report and medical report and reach out to our Abilene personal injury attorney for assistance, and we will get the ball rolling on your case.
Even if the accident did not involve another cyclist or another party, there is still a chance to obtain financial compensation through a personal injury lawsuit. If the local government or another party failed to maintain the property in question, that party has violated his or her duty of care, meaning there is a good argument to be made that negligence has occurred. Meet with our personal injury attorney in Abilene for a case review, and we will determine whether there is solid legal footing to move forward with a claim.
Elements of a Bicycle Accident Claim
Our Abilene cycling accident attorney is here to expedite the filing of your claim to help you obtain a just result in a timely manner. Our legal team will collect the relevant information necessary for the claim and file it so you can focus on rebuilding your body. Legal liability for the accident is determined thereafter. Our Cyclist at Law, Bill Shirer, will closely review your case's facts to determine whether one or several other parties were responsible for the accident. Those parties will be named as defendants in the ensuing lawsuit.
The aim of the lawsuit is to obtain the full value of damages to cover your financial setbacks stemming from the accident resulting from medical bills and property damage as well as pain, suffering, reduced earning capacity, and lost wages. If the insurance provider makes a settlement offer, we will review it with you to help you determine whether it is more prudent to accept the offer or take the matter to court.
Bicycle Accident Statistics in Abilene
Most people are a bit surprised to learn that a study conducted by Carinsurance.org that analyzed information from the National Highway Traffic Safety AdministrationAbilene shows Abilene is the second-deadliest city in the country for bike riders. In the period of time in question, Abilene endured five deaths for every 112 bikers, making it quite the dangerous place to ride a bike. In general, Texas is a dangerous place to ride a bike as Arlington, Fort Worth, San Antonio, Houston, and Austin are also high on the list of cyclist traffic fatalities.
Best Bike Trails in Abilene
Abilene has plenty of sprawling green spaces for bikers, hikers, and others to enjoy. Examples of Abilene's best places to ride a bike include the Cedar Creek Waterway, Galaxy Park, the Buck Creek Mountain Bike Trail, and the Dyess Fire Road Nature Trail.
Worst Areas for Bike Riding in Abilene
Similar to most other up-and-coming cities in Texas, Abilene has plenty of dangerous roads and intersections as a result of the population boom throughout the state. However, some intersections and roads are exponentially busier than others in Abilene. The intersections of Clack and Southwest Drive, Danville and Buffalo Gap, Danville and Southwest Drive, and Buffalo Gap and Clack are particularly dangerous.
How to Avoid a Bike Accident
Though you cannot completely prevent a cycling accident in Abilene, you can do your part to reduce the chances of such an accident occurring. Try to ride far away from vehicles, cyclists, and pedestrians. Don a helmet, pants, and long sleeves to protect your body in the event of an accident. Be aware that the doors of parked cars have the potential to pop open at any moment.
Be sure to wear reflective clothing or gear when riding your bicycle in Abilene at night so drivers, pedestrians, and other cyclists can see you. Some cyclists go as far as donning reflective gear during daytime rides to heighten visibility all the more. Be hyperaware of your surroundings and provide drivers with 100 feet of notice when turning or changing lanes, and you'll rest easy knowing you have done your part to prevent a painful and potentially deadly cycling accident in Abilene.
Contact Bill Shirer, Abilene's Cyclist at Law
Have you been injured while riding your bike in or near Abilene? Maybe you lost a loved one as a result of driver negligence. Reach out to our law firm today to schedule a consultation where we review the unique facts of your cycling accident case and determine whether it is prudent to file a personal injury lawsuit. Contact our Abilene law office today at 800-887-6188 or 972-392-1249 to schedule an appointment. You can also reach out to our law firm online by filling out our convenient online contact form.