Bicycle Accident Attorney Arlington TX
Call Us When You Need an Experienced Bicycle Accident Attorney in Arlington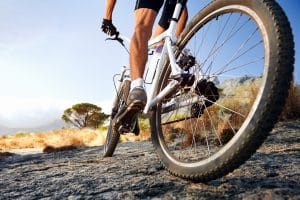 Even the most careful and safety-conscious cyclists may not be able to avoid becoming involved in bike accidents, especially when other motorists and bicyclists are not paying attention to what is going on around them. If you ever find yourself suffering from bicycle accident injuries and need a bicycle
accident attorney in Arlington to help you win your case, give us a call. We know how to navigate complicated injury laws and can help you prepare and file your cycle accident claim.
How We Can Help You Receive Compensation for Your Cycling Injuries
Cyclist At Law attorneys are very familiar with Arlington laws and regulations, which means that we have the knowledge and experience necessary to help cyclists file claims for bike accidents. Whether you have sustained minor or serious bicycle accident injuries, your insurance company may try to avoid giving you fair compensation, which is why you need the help of an experienced Arlington bicycle accident attorney. We offer the following legal services to all victims of cycling accidents:
Review of accident details in order to determine whether a client has a good case
Legal advice regarding cycle accident claim preparation and submission
Legal assistance for any questions that the client may have regarding their case
Even popular cycling races and events come with a risk of injury to competitors, so if cyclists plan on attending any cycling events in Arlington, it is important to prepare for possible bike accidents and bike accident injuries. One great way to prepare for the unexpected is by having the phone number for Cyclist At Law programmed into your phone. We can help injured bicyclists prepare and submit a cycle accident claim quickly and efficiently in order to encourage prompt approval of claims and compensation.
Bicycle Accident Statistics Arlington, TX
Are you curious about bicycle accident statistics in Arlington, TX? Here are some interesting stats, as recorded by the National Highway Traffic Safety Administration:
While the average age of bicyclists killed in crashes with motor vehicles has increased slightly (from 39 years old in 2004 to 45 years old in 2014), the number of estimated bicycle injuries has declined.

Of those cyclists killed in crashes with motor vehicles, 88 percent of them were male.

71 percent of bicycle fatalities occur in urban areas.
Do you have further questions about bicycle accident statistics in Arlington, TX? Contact Cyclist at Law today for more information!
Bicycle Pedestrian Accidents
Bicycle pedestrian accidents do happen! That being said, most cycling accidents occur in conjunction with motor vehicles. For instance, a car might hit a cyclist who's riding against traffic, or a driver might open their car door into a cyclist. However, cyclists hit approximately 1,000 pedestrians in the U.S. every year. Most of these accidents occur in densely populated urban centers. As a cyclist, you need to remain aware of all other forms of traffic — not just the ones that are larger than yourself.
Do you have further questions about bicycle pedestrian accidents? Contact Cyclist at Law today for more information! We're always happy to speak with you and to offer our assistance.
Contact Us
Increase your chances of having your bike injury claim approved by Contact or calling Cyclist At Law at 800-887-6188. We make it our primary goal to help bicycle accident victims win their cases and receive the compensation they need and deserve.