Dedicated Bike Accident Attorney for Beaumont, TX, Residents
Experienced Bike-Riding Personal Injury Lawyer for Beaumont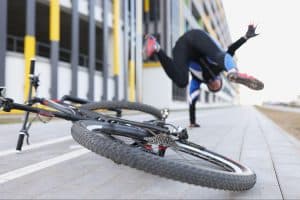 Your bicycling accident in Beaumont has the potential to prevent you from putting food on the table and living life to the fullest. If you are involved in a cycling accident of any type in the greater Beaumont area, reach out to our Cyclist at Law, Bill Shirer, today. Bill will analyze your case, determine whether it is prudent to move forward with legal action, and fiercely represent you in your quest for justice. Alternatively, if you lost a loved one as a result of a Beaumont bicycling accident, we will also advocate on your behalf by filing a wrongful death lawsuit. The path to justice begins with an initial consultation where we review the facts of your case.
Determining Liability for a Bicycle Accident
Legal liability for a cycling accident is not always crystal clear. Meet with Bill Shirer, describe the accident in detail, provide Bill with all potential forms of evidence, and he will attempt to determine whether you are partially or fully legally liable or not liable at all. Every Beaumont cyclist should be aware that if another party is more than 50% at fault for the accident, the stage is set to obtain a sizable court award or settlement. However, the challenge lies in proving another party is more than 50% liable for the accident.
Choose our experienced Beaumont cycling accident attorney to represent you in your case, and you'll rest easy knowing an experienced attorney with a passion for cycling is hard at work to prove another party is at fault. If another party violated their duty of care to you, that party is negligent, meaning he or she breached the duty, and that fact should be reflected in the outcome of your case. Entrust Bill Shirer, Esq., to litigate your cycling accident case in Beaumont, and he will inform you of your legal rights, tailor a legal argument to your case, and right this wrong as best as possible.
Some Beaumont cycling accident victims are eager to discuss the details of the accident with the insurance company, friends, family, colleagues, and even strangers on social media. However, doing so is a mistake. Instead of creating an opportunity for the insurer or opposing counsel to poke holes in your case by referencing discussions with others after the accident, say as little as possible. Let Bill Shirer speak on your behalf to the insurance provider, opposing counsel, and the court, and you will maximize your chances of a sizable court award or settlement offer.
Cyclist Laws in Beaumont, TX
Beaumont cyclists must follow the law when riding on the city's roads and sidewalks. However, most cyclists are unaware of the letter of the law for good reason. There are too many laws on the books for citizens to understand each of those rules in-depth. Fret not, as our Beaumont Cyclist at Law is here to provide you with the guidance you need to operate your bicycle within the confines of the law. Cyclists are required to ride toward the right side of the road, ideally by the curb along the edge of the road. If a bike lane is available, the bike rider is to use it.
Chapter 551 of the Texas Transportation Code states that an individual operating a bike is to ride on a permanently attached seat. The bike cannot be used to carry more people than it was designed to carry. One hand must be kept on the handlebars at all times. Hand signals are to be used to signal the intent to turn or stop. The left hand is to be extended when stopping, with the forearm directed toward the road at a 90-degree angle. When turning left, the left hand and arm are to be extended horizontally. When turning right, the left arm is to be extended to the left and the forearm is to be raised at a 90-degree angle, or the rider can extend his or her right hand/arm horizontally.
Bikes are to be equipped with brakes that can accomplish a braked wheel skid on pavement that is considered level, clean, and dry. In order to operate a bike at nighttime, the rider is to adorn it with a headlamp that produces a white light that can be seen from a minimum of 500 feet in front of the bike. There must also be a red lamp or reflector on the bike that can be seen from at least 300 feet away. Alternatively, the cyclist can adorn his or her bike with a red lamp that can be seen from 500 feet from behind the rear of the bike.
Car Drivers' Rights and Responsibilities to Cyclists
Car drivers owe a significant duty of care to cyclists and pedestrians as automobiles weigh thousands of pounds, whereas a person on a bike weighs a couple hundred pounds. Car drivers are required to share the road with both cyclists and pedestrians as they do with other drivers. Drivers are to keep a safe amount of space between their vehicle and cyclists. Automobile operators are to check their blind spot prior to changing lanes to guarantee cyclists or cars are not in their path. Beaumont drivers are also legally required to adhere to the boundaries of bike lanes, crosswalks, and other designations on the road.
Cyclists' Rights and Responsibilities
Though the focus of cyclist personal injury cases in Beaumont is typically on obtaining financial compensation for the victim, the little-known truth is cyclists also owe a duty of care to automobile operators. Bike riders are to leave at least three vehicle lengths of space between their bike and car drivers, pedestrians, cyclists, and others on the road. Traffic signs and lights are also applicable to cyclists. Cyclists must raise their arm 100 feet prior to performing a turn so nearby drivers have sufficient notice of the maneuver. If a pedestrian or another cyclist is in the space near where the turn will be executed, the biker is required to make a verbal sound prior to the approach and turn.
What to Do After a Bicycle Accident
The choices you make after your Beaumont cycling accident have the potential to determine whether you receive financial compensation or walk away from this legal matter empty-handed. The most important thing you can do after your cycling accident in Beaumont is ask for medical assistance. Receive treatment for your wounds or breaks, bring the resulting medical report to Bill Shirer, Esq., for review, and your case will be in motion.
It will also help to have a police report, as those writeups often contain information that pertains to responsibility and legal liability for the accident. Say as little as possible to the parties involved in the accident as well as the insurer and reach out to our Cyclist at Law, and we will analyze your accident including all of the relevant evidence. You can also do your part to shift the scales of justice in your favor by taking pictures and video of the accident scene. If you notice anyone in the area, reach out to them and ask whether they witnessed the accident. If they respond in the affirmative, record that person's name and contact information as he or she might serve as an invaluable eyewitness. Do not admit fault by stating that you are sorry or that you should have done something other than what you did. Let your attorney do the talking from here on out.
Elements of a Bicycle Accident Claim
The details of bike accident claims are unique, yet they have similar elements. Our personal injury attorney in Beaumont will analyze the facts of the case to determine which potential parties are likely defendants. Though drivers are typically the defendants in cyclist accident cases, other parties such as the bike maker, property owners, pedestrians, and even local government might also qualify as defendants.
The ensuing claim has the potential to spur both noneconomic and economic damages to account for losses. Examples of such losses include lost wages, reduced working capacity, suffering, pain, and mental trauma. Bill Shirer is also here to help those who have lost a loved one due to another's negligence. If a family member passed away in a cycling accident, contact us today for a case review where we will determine whether there is sufficient evidence for a wrongful death lawsuit.
Bicycle Accident Statistics in Beaumont
According to the Texas Department of Transportation, more than 3,000 cyclist crashes occur in Texas each year. Such crashes result in around 60 deaths though the specific figures differ from one year to the next. The NHTSA reports Texas has a cyclist fatality rate of 0.23 for every 100,000 people.
Best Bike Trails in Beaumont
Beaumont is a biker's paradise. Take your bike on over to Gulf Terrace Park, the Folsom Hike and Bike Trail, The Gulf Terrace Hike and Bike Trail, or the Cattail Marsh Wetlands, and you are sure to have a fun day of cycling under the sun.
Worst Areas for Bike Riding in Beaumont
Beaumont has its fair share of busy roads and intersections. Though cyclists don't have to battle highway traffic, getting around Beaumont on regular streets is challenging enough. Dowlen Road, Washington Boulevard, and Phelan Boulevard are some of the city's busiest roads that cyclists should avoid. Though you cannot bypass all traffic on the road, you can minimize your exposure to potentially dangerous situations on the road by riding early in the morning after the sun has risen.
How to Avoid a Bike Accident
Avoiding a bike accident is easier said than done. Granted, there are some situations in which it is impossible to get out of harm's way. However, cyclists should be aware that they can make subtle alterations and ride strategically to minimize potential disruptions, including crashes. Cyclists should be hyperaware when riding the roads. Look closely at the tires of the vehicles to the sides of your bike. If the tires are moving toward you, it is only a couple of seconds or less until that vehicle moves in your direction.
Cyclists should ride along the road by the curb, wear reflective gear, and indicate the intention to change lanes or turn with a noticeable motion. Cyclists are also required to verbalize their presence when approaching pedestrians and fellow cyclists. Above all, ride while sober and alert so you can perform rapid defensive maneuvers should the unexpected situation arise on the road.
Contact the Beaumont Cyclist at Law
Bill Shirer, a fellow cyclist, is passionate about helping bicycling accident victims reach a just result. Tell Bill about your cycling accident in Beaumont and let him analyze the facts of your case, and he will be honest with you about the potential for financial compensation in the form of a court award or settlement offer. Bill will advocate on your behalf while you recuperate, doing everything possible to maximize your settlement offer or court award.
The clock is ticking on your personal injury case. Contact Bill within the statute of limitations and let him analyze the accident from the perspective of an attorney who is also a cyclist, and the wheels of justice will be in motion. Reach out to Bill Shirer today to schedule an appointment where we discuss your case and lay the initial foundation for a successful personal injury lawsuit or settlement negotiations.