Dedicated Bike Accident Attorney for Brownsville, TX, Residents
Experienced Bike-Riding Personal Injury Lawyer for Brownsville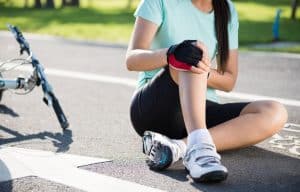 A Brownsville bicycling accident can make it difficult to work and enjoy life as you did before the unfortunate incident. If you are struck by a car, hit by another cyclist, or run into by a pedestrian, motorcyclist, or anyone else while riding your bike, you should know help is available through Bill Shirer, our Cyclist at Law. Bill will pursue justice even if it takes a lawsuit and several court hearings. If you or a loved one are involved in any sort of bicycle accident in Brownsville, TX, lean on us for legal assistance. We are here for those who survive bike-riding accidents as well as the families of those lost.
Determining Liability for a Bicycle Accident
It might take some time to determine which party or several parties are at fault for the accident. There is also a chance that liability is spread out across multiple people and/or institutions. However, if you are partially at fault, there is still the potential to obtain financial compensation. Meet with our Brownsville bicycling accident attorney, tell us about your case, and we will optimize an artfully crafted legal argument on your behalf. Above all, we'll review the facts of your specific case, including evidence to determine whether we can prove the negligence of another party. Negligence is a legal term that means the failure to provide the expected level of due care to others.
Bicyclists are in an inherently vulnerable position, meaning there is a significant duty of care that drivers owe to you or your loved one when you are bicycling on the roads. If you have lost a family member in an accident or were struck and injured while riding your bicycle, our Brownsville personal injury attorney can help. As long as another party or several parties share fault for the accident or are completely responsible for it, we will do everything in our power to prove that party violated his or her duty of care to you while you were in the vicinity.
You can do your part to protect your legal rights and your case by strictly discussing this legal matter with our bicycling lawyers in Brownsville. We represent personal injury victims in bicycling accidents, car accidents, and more. Do not discuss the event with others. Use your phone to record statements made by others at the scene of the accident. Your legal case will be strengthened that much more with a formal medical report, a police report, and information about witnesses and other parties involved in the accident. The more you document, the stronger your case will be both in terms of obtaining a lucrative settlement offer and also in the event that we have to pursue a court award.
Cyclist Laws in Brownsville, TX
Brownsville has its fair share of biking rules and regulations. Local bike riders are to ride in the direction of vehicle traffic. In general, bikes are to be driven similar to regular vehicles, meaning those operating bicycles are to obey traffic lights and signs. Bicyclists are advised to keep about three feet between their bike and the curb, use hand signals, don reflective gear, and provide pedestrians with audible warnings, especially when approaching or passing.
The city stresses bicyclists' use of hand and arm signals when turning. Bike riders are also expected to remain near the curb unless attempting to pass. Finally, bike riders are to have lamps attached to the front of their bikes when riding at night.
Car Drivers' Rights and Responsibilities to Cyclists
Car drivers in Brownsville are required to share the road with cyclists as though those riders are the same as pedestrians. Though there are instances when drivers have the right of way, there is also a significant duty of care owed by automobile operators to bicyclists due to the difference in vehicle size and weight. Automobile drivers are required to pass bike riders on the left.
Drivers are also required to maintain a safe amount of space between their vehicles and bicyclists. Drivers are required to check their blind spot before changing lanes to make sure no bicyclists are in the way. Last but not least, local drivers are required to respect the boundaries established by crosswalks, bicycling lanes, and other road designations.
Cyclists' Rights and Responsibilities
Cyclists are to leave a safe amount of space between their bike and other vehicles. In general, it is expected that bike riders will leave a minimum of three car lengths or more between their cycle and any vehicle, fellow bike rider, or pedestrian. Bicyclists are to obey all laws of the road including stoplights, stop signs, yield signs, and more. Bike riders are also required to raise their arm 100 feet ahead of executing a turn. If a pedestrian is in the area, the cyclist is to make an audible signal before approaching and/or passing.
What to Do After a Bicycle Accident
If you are involved in a bicycling accident in Brownsville, obtain medical care as soon as possible. Have your medical care documented in a formal report. Obtain a police report from the accident along with witness statements and bring all of the documentation to our law office for a consultation. The evidence you collect in the aftermath of the accident has the potential to make the difference in your case.
You can help your chances all the more by taking pictures of the accident scene, injuries, property damage, the nearby signs and intersections, and other details. Do not admit guilt in any way. Say as little as possible, let our Brownsville bike accident attorneys handle discussions with the insurer, and we will maximize the value of your case.
Elements of a Bicycle Accident Claim
Your bike accident case in Brownsville will take its own course. The length of time it will take to reach a settlement, court award, or other end point will be determined by the unique facts of your case along with the number of parties involved, potential testimony, and other factors. If necessary, we will pursue the matter all the way through court hearings in the form of a personal injury lawsuit. Potential defendants in a lawsuit range from drivers to pedestrians, bicyclists, property owners, the city government, the maker of the bike, and even the mechanic who last worked on it.
The damages from the accident will account for both economic and noneconomic losses suffered. If you endured mental trauma, pain, suffering, lost wages, diminished working capacity, or the death of a loved one, you will be compensated appropriately. Bill Shirer, our Cyclist at Law, will push to maximize your compensation through a settlement or court award.
Bicycle Accident Statistics in Brownsville
The National Highway Traffic Safety Administration (NHTSA) reports that 3,615 total fatalities were suffered on Texas roads in 2019. Nearly 70 of the total on road fatalities throughout the year were suffered by cyclists, meaning the state has a bicyclist fatality rate per 100,000 individuals of 0.23. However, the fatality rate of several other states is significantly lower, meaning Texas roads have their fair share of cycling accidents and deaths per capita.
If you lose a loved one in a bicycling accident in Brownsville, our bike accident attorney is here to help in your quest for justice. Also, if you suffer an injury that is not life-threatening, you should be aware that there is the potential to obtain a significant amount of financial compensation through a court award or settlement offer. There is no need for you to worry about negotiating settlement offers. Our Cyclist at Law, Bill Shirer, Esq., is here to obtain the best possible settlement offer for your cycling accident in Brownsville, TX.
Best Bike Trails in Brownsville
Brownsville has plenty of nature trails, boardwalks, biking paths, open green spaces, and other areas to enjoy a lovely day outside on your bike. Examples of Brownsville biking trails include the Paseo de la Resaca Trails, the Belden Trail, the Brownsville Sports Park Hike & Bike Trail, the Monte Bella Mountain Bike Trail, and the Laguna Atascosa National Wildlife Refuge, where you'll find 60+ miles of biking and walking trails. Continue to venture through Brownsville, and you will find several other open green spaces you and your family can enjoy for a morning or afternoon bike ride.
Worst Areas for Bike Riding in Brownsville
Similar to the rest of Texas, Brownsville is becoming increasingly dangerous for bicyclists and pedestrians as the city grows. Venture outside onto some of the main intersections, and you'll find it is becoming that much more challenging to safely maneuver through the area on a bicycle. In particular, Boca Chica Blvd is laden with vehicles, bikes, pedestrians, trucks, and other forms of activity that heighten the chances of a collision. Sam Pearl Boulevard by 12th and 13th Streets is especially busy. International, Morrison, Ruben M Torres Boulevard, and N. Frontage Road are also some of the area's busiest and most stressful streets to ride.
When in doubt, restrict your biking to the normal daylight hours between eight in the morning and seven in the evening to maximize visibility while out on the road. If you run out of time and have to ride your bike at night, wear reflective gear so drivers can see you on the road.
How to Avoid a Bike Accident
If you plan on biking in or around Brownsville, you can do your part to remain safe by riding near the curb while wearing bright colors and reflective gear on your bike. Try to ride during the daylight hours to improve visibility both for you and others you share the road with. Make your intention to turn or change lanes as clear as possible by lifting your arm 100 feet prior to making the maneuver. If other bike riders or pedestrians are in the area, yell out to them so they are aware of your intention and also the fact that you are in their vicinity.
Pay close attention to the wheels of the vehicles around you as their movement is the first indication that a vehicle is heading in your direction. If you notice a vehicle's wheels are moving in your direction, slow down, veer off to the side of the road, and get out of harm's way. Be especially mindful of doors from parked cars that have the potential to swing open into your path of travel.
Contact the Brownsville Cyclist at Law
Our Cyclist at Law, Bill Shirer, Esq., is here to help you return your life to normal as quickly as possible after your biking accident. Meet with us, tell our legal team about your accident, and we will develop the best legal strategy for your case. We will review your unique case, get the wheels in motion for the legal process to take shape, and do everything possible to obtain the financial compensation you need and deserve.
Bill takes pride in representing Brownsville residents as he is also a bicyclist. Bill logs hundreds of miles each year biking through Texas and enjoying nature's beauty. This is the biking enthusiast you need on your side for spirited legal representation crafted by a fellow cycling lover. Reach out to us today at 866-797-9555 or 972-843-7784 to schedule your consultation.