Dedicated Bike Accident Attorney for Cedar Park, TX, Residents
Experienced Bike-Riding Personal Injury Lawyer for Cedar Park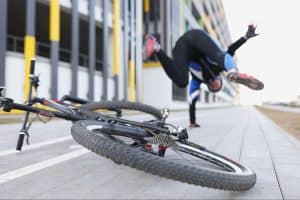 A cycling injury has the potential to render you bedridden, paralyzed, unable to work, and grasping for life. Some cycling accidents end with the worst possible outcome: the loss of life. If another party's negligence contributed to the accident, that party's carelessness should result in a court award or settlement. Choose Bill Shirer, Esq., Cyclist at Law, to handle your cycling accident case in Cedar Park, and you'll rest easy knowing a fellow cyclist is analyzing the nuances of your unique accident, optimizing a legal strategy, and representing you in hearings and settlement negotiations.
Bill will zealously advocate on your behalf to obtain financial compensation applicable to lost wages, medical bills, pain, suffering, the cost of a new bicycle, and other expenses causally related to the accident. Bill has successfully represented injured cyclists in Cedar Park and other parts of Texas in and out of a court of law. Put your trust in a fellow cyclist who is board certified to practice personal injury trial law in Texas, and you'll improve your chances of this unfortunate incident having a happy ending in the form of a favorable award handed down by the court or a settlement.
Determining Liability for a Bicycle Accident
Legal liability for a cycling crash isn't guaranteed to be easy to pinpoint. The majority of such crashes are the result of a negligent driver who fails to provide due care for the cyclist. However, there is also the potential for the cyclist to share fault. Even the local government, pedestrians, the bike manufacturer, and several other parties might be found legally liable for the cycling accident.
What matters most is that your attorney can prove the negligent party failed to fulfill his or her duty of care. If negligence, meaning the failure to fulfill the duty of care, is not fulfilled, you are likely to receive the financial compensation you need as a result of the legal actions spearheaded by our Cyclist at Law, Bill Shirer, Esq. The amount of financial compensation you receive is determined by your incapacitation, suffering, pain, and additional losses. However, the initial settlement offer might not suffice. Oftentimes, insurers and victims will exchange several counteroffers before agreeing to a settlement figure that is fair for both parties.
Cyclist Laws in Cedar Park, TX
Cedar Park bicyclists are required to follow specific rules when riding the roads. Local cyclists are not permitted to hold packages or other items that prevent maintaining a firm grip on the bike's handlebars. Nor are Cedar Park cyclists allowed to place their bikes on streets, sidewalks, or curbs as doing so would prevent vehicles and pedestrians from progressing. Above all, cyclists are not allowed to attach their bikes to automobiles. Cyclists are to wear reflective gear or put reflective components on their bike when riding at night to ensure they can be seen by motorists, fellow cyclists, pedestrians, and others.
Car Drivers' Rights and Responsibilities to Cyclists
Drivers must provide cyclists with the appropriate level of care. The failure to provide due care to others equates to negligence. However, merely being aware of another party's negligence and how that carelessness caused a cycling accident in Cedar Park is not enough. You need a fellow cyclist to represent you in a court of law. Bill Shirer, a passionate cyclist, will fiercely advocate on your behalf to prove the negligence of one or several other parties and help you transition to the next chapter in your life with the financial support necessary after such a painful event.
Drivers are also required to provide cyclists with a sufficient amount of space, meaning the two parties are required to share the road with one another. Tailgating a cyclist or passing one in an unsafe manner has the potential to result in a negligence verdict against the driver. Drivers are also required to leave a minimum of three feet of room between their cars and cyclists. Car drivers must also provide due care to cyclists when emerging from parked positions and opening doors that have the potential to extend into the paths of oncoming cyclists.
Cyclists' Rights and Responsibilities
Cyclists owe a duty of care to others, including drivers, similar to how those same drivers must reciprocate their duty of care to others on the road. However, the rights and responsibilities of Cedar Park cyclists are not the same as those of other drivers. Cyclists must ride on the right side of the road toward the curb, share the road with fellow cyclists, and refrain from riding on the highway.
Pedestrians must be accommodated for when local cyclists are traversing Cedar Park sidewalks. However, it must be recognized by all parties sharing the road that there is the potential for cyclists to collide with pedestrians, cyclists, and motorists. If the cyclist failed to announce his or her presence by ringing a bell, shouting, or using a bike horn when approaching another cyclist or pedestrian, and a collision occurs, the stage is set for a personal injury lawsuit in which the court rules against the cyclist.
What to Do After a Bicycle Accident
Do your best to remain calm after the accident. Reach out to emergency medical care providers by dialing 911. Take pictures and video footage of the accident scene, contact the police so they can generate an official accident documentation form, and scan the area for eyewitnesses. If you spot anyone in the vicinity, ask them whether they witnessed the accident and take down their name and phone number. Write down or take pictures of the vehicles involved in the accident, the damage to your bicycle, the intersection of the crash, and your injuries. Record the insurance information of the drivers and other parties involved in the accident. Most importantly, reach out to our Cedar Park personal injury attorney to review your case.
Elements of a Bicycle Accident Claim
A bike accident claim that results in financial compensation is one in which the plaintiff's attorney proves the negligence of another party or multiple parties. Bill Shirer, our Cyclist at Law in Cedar Park, Texas, is here to spearhead your personal injury lawsuit and settlement discussions so you can zero in on your work, health, and ultimately getting the most out of life. Though there is the potential for the lawsuit to culminate in a court award, a settlement is more likely. The initial settlement offer is unlikely to be sufficient, meaning Bill might advise countering one or several offers.
If necessary, Bill will pursue justice by attending court hearings where he presents evidence to prove the negligence of the defendant and obtain the financial compensation you need to even attempt to overcome this egregious wrong. However, evidence such as video surveillance footage and witness testimony are only two pieces of the puzzle. Liability can also be proven with a combination of evidence, witness testimony, medical reports, the police report, and supplemental information, including that which you captured on your smartphone in the aftermath of the crash.
Bicycle Accident Statistics in Cedar Park
Cedar Park is a rapidly growing suburb laden with cyclists, pedestrians, automobiles, and other forms of activity. Cycling accidents have increased in Cedar Park and the rest of Texas in recent months and years as a result of the area's rapid population growth. Around 800 individuals die as a result of cycling and pedestrian accidents on Texas roads per year. Texas almost always ranks higher than other states in terms of cycling deaths. Only Florida and California sometimes rank higher than the Lone Star state on the list of states with the most bike accident deaths.
Best Bike Trails in Cedar Park
Cedar Park is a spacious green area with welcoming biking trails, friendly locals, and ample sunshine. Be sure to check out the 183A shared use path trailhead, the Brushy Creek regional trail, and the McCann park and trail. Additional Cedar Park biking opportunities include Twin Lakes Park, the Suburban Ninja cycling park, and Ranch Trails Park.
Cedar Elm Preserver Trail and Red Horn/Katy Lane Trail are also revered by locals and visitors alike as some of the area's best green spaces for biking and hiking. Be sure to take some breaks along the way to pause, take in the beauty of your surroundings, and take some snapshots that you'll look back on fondly when recapping your biking adventures through Central Texas.
Worst Areas for Bike Riding in Cedar Park
The intersection of W Whitestone and S. Lakeline Boulevard is one of the worst possible places to ride a bicycle. In fact, some of the state's most hectic intersections are located in Cedar Park, nearby Austin, and other parts of Central Texas. Lakeline Boulevard and RM 1431 is also another dangerous intersection local cyclists should avoid at all costs. Whitestone and 183A was recently altered with the addition of additional traffic lights as a result of accidents.
Cedar Park connects to Austin, one of the country's fastest-growing cities, so local drivers should also do their best to bypass North Lamar Boulevard and West Parmer Lane, North Lamar Boulevard and West Rundberg Lane, Manchaca Road and West Slaughter Lane, and Cameron Road in the northeastern part of town. Furthermore, the area around Martin Luther King Jr. Boulevard and even areas of south Austin, especially near Congress and South 1st Street, have become increasingly busy in recent years.
How to Avoid a Bike Accident
Every Cedar Park cyclist should be aware that his or her life is on the line during each bike ride. Wear a helmet, strap on the elbow and knee pads, maintain your bike for optimal functionality, and the stage will be set for safe and enjoyable riding sessions in Cedar Park and beyond. Above all, keep a close eye on vehicles in your vicinity. Pay close attention to parked cars as their doors can easily swing open into your path.
Wear bright colors so motorists can see you with ease. Keep your bike tires at the ideal pressure level so you can maintain your balance and safety when traversing challenging terrain. Be sure to raise your arm and hand on the side of the body where you will turn or change lanes.
Contact the Cedar Park Cyclist At Law
If you are injured in a cycling accident in the greater Cedar Park area or if a loved one passes away after such an accident, be proactive by asking for the guidance of an experienced personal injury attorney. Bill Shirer, an attorney with a passion for cycling, is proud to represent local Cedar Park residents injured in bicycling accidents. Our Cyclist at Law will break down your unique cycling accident, get a sense of whether there is a chance to obtain financial compensation through a court award or settlement, and tirelessly work on your behalf.
Bill will closely analyze your case and do everything possible to ensure justice is served. The overarching aim of taking legal action is to obtain the financial compensation you need to offset the cost of medical care, lost income from missed time at work, funeral expenses, burial costs, and additional losses causally related to the accident. Contact Bill Shirer, Cyclist at Law, in Cedar Park today to schedule your case review. Injured cyclists and the family members of those lost in cycling accidents can contact Bill by phone at 800-887-6188 or by sending an email message.