Bicycle Injury Attorney Dallas, TX
Dallas, Texas Bike Injury Lawyer
Bill Shirer, Cyclist at Law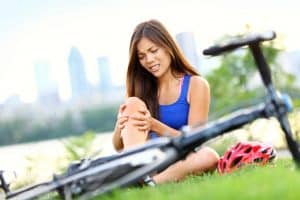 , focuses on bicycle accidents and is a Dallas bicycle injury attorney. Not only is this personal injury attorney familiar with bicycle law, but he also is a cyclist. Whether you are trying to claim for bicycle accident damages such as replacing your bike or claiming for medical bills you've had as a result of a bicycle injury, Bill Shirer can help you negotiate with your insurance company for your personal injury case .
He can help answer your insurance questions, such as:
What to Do in a Bike Accident
Can I Trust My Insurance Company?
Am I Covered By My Auto Insurance?
How Do I Get My Bike Replaced?
About Dallas TX
Over one million people call Dallas home, making it the ninth largest city in America. Full of museums and popular tourist attractions, Dallas boasts a rich culture and is a hub of commerce, communication, art and technology. Dallas has more shopping and restaurants per capita than anywhere else in the United States and is connected by two railroads, five interstate highways, and the DFW International Airport.
Bicycle Injury Compensation in Dallas
If, you are injured while cycling around Dallas, you're entitled to proper compensation. When an accident occurs, the damage takes a toll on our lives. You might experience overwhelming pain and suffering. You'll almost certainly face financially challenging medical bills. Medical costs are expensive, as are property damages, and loss of work hours. Most of us cannot handle the situation on our own.
At Cyclist at Law, we're riders, too. We also know just how expensive a new bicycle or medical bills can be. If you've been involved in an accident, let us fight on your behalf for proper compensation. You're entitled to damages. Such losses can vary in amount. If someone else was at fault, your case is even stronger than you may think.
Hit and Run Bicycle Accident in Dallas
Bicycle riders, like drivers of cars or trucks, are subject to the rules of the road. Unfortunately, many drivers do not see bicycle riders as equal motorists. Although we know that we're held to the same standards, our vehicles are much smaller and more fragile. These combined factors make cyclists particularly vulnerable in accidents.
If you've been involved in a hit and run accident, Cyclist at Law will fight on your behalf. We work to bring justice to those affected by these incidents. Your first step, however, should always be to seek medical attention. If possible, after seeking help, file a police report and try to remember the details of the vehicle. You'll need to file with your insurance company, too. When you get in touch with Cyclist at Law, we can help make this last step as easy as possible.
Here To Help And Advise
As a Dallas bicycle injury attorney with over 23 years of experience trying bicycle accident and personal injury cases, Bill Shirer, Cyclist at Law is a Dallas bicycle injury attorney that can help you and advise you on how to get compensated if you've been a victim of a bicycle accident.