Dedicated Bike Accident Attorney for Edinburg, TX, Residents
Experienced Bike-Riding Personal Injury Lawyer for Edinburg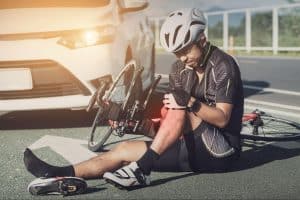 Bicycling accidents cause more than physical pain. An accident on the road can cause a lasting injury, disability, lost time at work, or even death. If you are victimized by another party's negligence or if you lose a family member due to another party's carelessness, reach out to Edinburg 's Cyclist at Law, Bill Shirer. Bill will analyze your case, determine whether one or several parties might be negligent, and push for a fair result in the form of a court victory or settlement.
Though the damage caused by a biking accident can never be fully repaired, a settlement or court award will go a long way in providing justice in the context of your personal finances. Bill will push for all possible damages in an attempt to facilitate a full and timely recovery without decimating your finances. Bill understands the extent of the risk posed to cyclists as he rides on the weekends and evenings after work. Let Bill represent you in your push for justice, and you'll be represented by a fellow cyclist with a passion for biking and genuine sympathy for injured bicyclists. Bill's track record of success speaks for itself. Bill has fiercely advocated on behalf of hundreds of injured cyclists and other injured victims while working as a trial lawyer.
Meet with Bill, tell him about your bike accident, and he will develop a legal strategy tailored to your unique case. Bill will analyze the facts of your collision, level with you about whether a personal injury lawsuit is likely to succeed, and push for justice in and out of court.
Determining Liability for a Bicycle Accident
Edinburg biking accidents are almost always the fault of one or several parties. However, there are some instances in which fault is equally shared. The burden of proving the defendant's predominance of fault falls on the plaintiff's attorney. Bill Shirer will analyze your bike accident, determine all potential liable parties, file a personal injury lawsuit on your behalf, represent you at legal hearings, and engage in settlement discussions on your behalf.
What matters most in the context of legal liability is whether your attorney can prove another party failed to provide due care for you while you were in their vicinity. Bill Shirer embraces the challenge of proving defendant negligence, closely reviewing all evidence, witness statements, the police report, medical reports, and more. If it appears as though another party is negligent, a settlement offer might be made. Bill will review the details of the offer with you and provide guidance. Oftentimes, it is in an injured victim's interest to counter the initial settlement offer, especially if there is blatant negligence.
Negligence in the context of bicycling accidents isn't always limited to an automobile operator. Some biking accidents are the result of other cyclists' negligence. In some instances, the roads, stop lights, signs, or other road indicators are not posted or clear, meaning there is the potential for governmental liability. Other potential parties that can be found guilty of negligence in the context of cycling accidents include the manufacturer of the bicycle, the technician who last worked on the bike, and even the unlikely wayward pedestrian who ventures into the path of a cyclist. Choose Bill Shirer to represent you in and out of court, and you will rest easy knowing a fellow cyclist is hard at work identifying all parties that might be fully or partially liable for your cycling accident in Edinburg.
Proving another's negligence is easier when you take pictures or video footage of the accident scene. Do your best to document the damage to your bicycle, the injuries to your body, and any other damage/injuries resulting from the accident. Flag down eyewitnesses, save their information in your smartphone, and treat them kindly as their testimony has the potential to make or break your personal injury case.
Reach out to the police so a police report can be created and filed. Above all, be sure to obtain timely medical care. Your injuries, status, and treatment should be comprehensively documented. Obtain a copy of the medical report and provide it to your Edinburg personal injury attorney, and the stage will be set for a successful result, be it in the form of a court award or a settlement. Let Bill Shirer, Cyclist at Law, focus on your case, and you'll be liberated to zero in on your recovery, a potential return to work, and living life to the fullest.
Cyclist Laws in Edinburg , TX
Texas cyclists are required to provide due care to others on the roads and sidewalks, including fellow cyclists, pedestrians, and automobile operators. Texas law requires that cyclists keep a minimum of one hand on the handlebars while riding. Cyclists are to ride near the curb, moving with the flow of traffic. Arm and hand signals must be used before turning, changing lanes, or performing a pass. Two cyclists can ride adjacent to one another if such positioning does not interfere with the flow of traffic. Those who ride at night are to use reflective materials on the back and front of their bike for visibility purposes.
Car Drivers' Rights and Responsibilities to Cyclists
As most bikers are aware, automobile operators owe a duty of care to cyclists. If drivers fail to uphold the responsibilities owed to cyclists, they can be found guilty of negligence and face the appropriate legal ramifications. Drivers must acknowledge cyclists on the road. At a bare minimum, automobile operators are to provide all cyclists with three to four feet of space. Caution is to be exercised when passing cyclists.
Cyclists' Rights and Responsibilities
Edinburg cyclists are legally empowered to ride in the street with automobile operators. However, cyclists are required to ride along the road's side and move in the same direction as vehicles. Cyclists are also required to signal lane changes and turns with the raising of their hands and arms to the appropriate side. Cyclists must make their presence known to pedestrians and other cyclists in their vicinity by sounding their bike horn, ringing a bell, vocalizing their presence, or using other audible means to communicate the potential for a collision.
What to Do After a Bicycle Accident
The steps you take immediately after your cycling accident in Edinburg are of the utmost importance. Refrain from apologizing, don't even hint at any admission of fault, use your smartphone's video recording feature to record the aftermath of the collision, and contact the police along with emergency medical personnel for assistance. The police will generate a formal report documenting the accident and possibly detailing the sequence of events that pieces together the puzzle of legal liability.
The analysis of the police report, medical report, witness statements, video surveillance footage, and additional evidence allows for the formulation of a legal strategy that maximizes the chances of a victory. Contact the police, a doctor, Bill Shirer for legal guidance, and family members for ongoing support. Your family, social, and legal circles will lift your spirit and potentially help create a financial lifeline in the aftermath of this unfortunate event. Continue to receive medical care, fully document that care and your condition, and maintain a positive attitude. Most importantly, let Bill Shirer, Cyclist at Law, fiercely advocate for a fair and just result.
Elements of a Bicycle Accident Claim
The legal elements of a cyclist accident claim are nothing to be intimidated by. Each cycling claim has specific elements that begin with the generation of the official police report. The accident is formally documented in an attempt to pinpoint legal liability. The challenge lies in identifying all potential legally liable parties and proving their negligence. Bill Shirer is here to overcome the legal hurdles on your behalf so you can rebuild your mind, body, and spirit after this potentially life-changing event.
Your initial case review paves a path to filing a personal injury lawsuit. Bill will discuss settlement offers with you, helping to determine if it is prudent to counter the offer or accept it. If necessary, Bill will advocate on your behalf at court hearings. The aim of the legal process that unfolds after your bike accident injury in Edinburg is to obtain the financial compensation you need to offset all causally related losses.
Bicycle Accident Statistics in Edinburg
Texas has more than its fair share of cycling accidents as the state has warm weather, an abundance of sunshine, and a seemingly endless number of things to do outdoors. As a result, around 3,000 cycling accidents occur in Texas each year. Such accidents typically spur 1,500 injuries on an annual basis. All in all, around 50 Texans die each year as a result of cycling accidents.
Best Bike Trails in Edinburg
Edinburg is a biking haven as the city has nearly perfect weather, plenty of open space, green trails, and friendly locals. Check out the Granton bike paths, the Union Canal path, the Meadows, the Fountainbridge path, and the Innocent Railway cycling/hiking path.
Worst Areas for Bike Riding in Edinburg
Edinburg's highways are notorious for their gridlock and fatalities. In particular, the I-69C in Edinburg is especially hectic. Monte Cristo Road, FM 2812, Trenton, 10th St., and Nolana and 23rd are also quite dangerous for cyclists.
How to Avoid a Bike Accident
Bicyclists are at an inherent size disadvantage on the road. Defensive riding that prioritizes safety and health is the best approach while navigating the sometimes chaotic roads. Edinburg is adding population just like the rest of the Lone Star state, meaning there will be that much more traffic in the months and years ahead. You can do your part to avoid an accident while enjoying peaceful bike rides by keeping a minimum of four feet between your bike and vehicles.
Wear reflective gear, don a bright-colored helmet, consider wearing elbow/knee pads, and listen closely to your surroundings instead of escaping with a podcast. Remain alert while riding, pay attention to subtle indications that might indicate potential threats are emerging on the road ahead, and keep your guard up at all times. Recognize the fact that cycling is likely the most dangerous thing you do, prioritize personal safety, and don't be afraid to ask for help from an Edinburg personal injury attorney in the event of an accident.
Contact the Edinburg Cyclist At Law
Bill Shirer, Edinburg's Cyclist at Law, is a call away. If you are injured in a cycling accident or if you lose a family member as a result of an accident, contact Bill right away. Bill is an avid cyclist, meaning he will passionately advocate on your behalf as he has a soft spot for fellow biking enthusiasts. Put your faith in a fellow cyclist who logs thousands of miles per year, races in the Masters 50+ road division, and sincerely enjoys cycling. Bill will develop the best possible legal strategy in an attempt to win your case, obtain a settlement or court award, and set you up for financial success in the aftermath of this painful event. Even if your case goes to court and Bill or another firm attorney attends several hearings, the effort is well worth it as your financial future hangs in the balance.
Reach out to us today at 866-797-9555 to schedule your consultation and case review.