Bicycle Accident Attorney Garland, TX
Garland, Texas Bike Injury Lawyer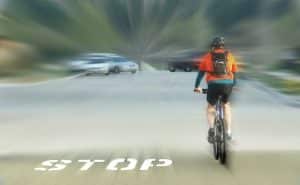 Bill Shirer, Cyclist at Law, focuses on bicycle accidents and is a bike injury lawyer. Not only is this personal injury attorney familiar with bicycle law, but he also is a cyclist.  Whether you are trying to claim for bicycle accident damages such as replacing your bike or claiming for medical bills you've had as a result of a bicycle injury, Bill Shirer can help you negotiate with your insurance company for your personal injury case .
He can help answer your insurance questions, such as:
Can I Trust My Insurance Company?
Am I Covered By My Auto Insurance?
How Do I Get My Bike Replaced?
Cycle Accident Insurance Claim
Like all accidents, most cycle accidents are caused by someone else's negligence. If you were riding your bicycle and you were struck by a vehicle, then you are well within your rights to file a personal injury lawsuit at your state's civil court. However, that does not mean you need to rush right over. Before you do anything else, you should see to your injuries and seek medical attention. Once you've visited a doctor or the hospital, then consider hiring a lawyer.
To make a successful claim, you'll want to remain vigilant and gather as much information as possible on the scene. This information may include eyewitness accounts, police reports, insurance information, and the other driver's contact information. If we have this documentation readily available, we can provide a more accurate claim to the courts and insurance companies.
About Garland TX
As one of Money Magazine's "Top 100 Places to Live" in 2008, Garland TX offers unique amenities such as aquatic activities at nearby Lake Ray Hubbard, the DART rail, the Kansas City Southern track, Hawaiian Falls waterpark and Firewheel Town Center.
What damages are recoverable of bicycle accident cases?
If you're involved in a bike crash, you are fully entitled to damages, especially if another party is liable for the incident. In such a case, you may recover both economic and non-economic damages. Economic damages include any damage to your personal property (including your bicycle or safety equipment), your medical expenses, and lost wages. On the other hand, non-economic damages include pain and suffering, impairment, and mental anguish. The court will determine both whether or not you'll be granted non-economic damages, and the total amount of the damages. When fighting for any form of damages, your best option is to hire a professional attorney who specializes in bicycle-related cases. An attorney will fight on your behalf to either receive a settlement outside of the court or win the court case and receive damages. Both cases are complicated, and require a firm understanding of the law.
Here To Help And Advise
As a Garland bicycle accident attorney with over 23 years of experience trying bicycle accident and personal injury cases, Bill Shirer, Cyclist at Law and Garland bicycle attorney can help you and advise you on how to get compensated if you've been a victim of a bicycle accident.