Dedicated Bike Accident Attorney for Houston, TX, Residents
Experienced Bike Riding Personal Injury Lawyer for Houston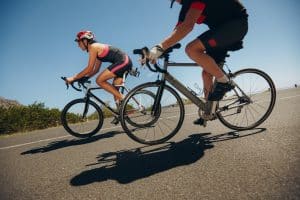 A bicycle accident is a life-changing experience. While automobiles are laden with thousands of pounds of steel for protection, bicyclists are unprotected but for a helmet and possibly a few pads. This is precisely why you should only trust a proven bike accident attorney to spearhead your quest for justice in your bicycling accident case. Bill Shirer, Cyclist At Law, is that attorney.
Bill, an avid bicyclist, takes great pride in getting his clients compensation they deserve after being in a bicycle accident. If you are involved in any type of bicycling accident or if you have lost a loved one as a result of such an accident, do not suffer in silence. Lean on our bike accident attorney in Houston for guidance, and you will stand a much better chance of obtaining justice in the form of financial compensation.
Determining Liability for a Bicycle Accident
The liability for your bicycle accident hinges on the unique facts of your specific case. Drivers are typically considered liable for bicycle accidents because they are driving machines weighing thousands of pounds while bicyclists have minimal or even no protection. However, there are some instances when the bicyclist may be found partially or fully liable.
As long as you were obeying traffic signals, riding on the correct side of the street, and not acting in a negligent manner, there is a good chance you will not be found liable in your bike accident case, meaning you will stand a good chance of obtaining monetary damages with the assistance of our Houston bike accident attorney. In short, drivers are held to a standard of care that is higher than that of bicyclists since bicyclists are that much more vulnerable than those in well-protected vehicles.
What matters most is proving negligence. Negligence is a legal term used by lawyers in reference to failing to provide due care to others in the vicinity. Though there is the potential for a bicyclist to be assigned contributory negligence if their injuries are partly caused by their own negligence, drivers are typically found to be negligent more often than bicyclists. Our bicycle accident attorney in Houston is here to analyze your case, collect evidence, and interview witnesses with the overarching aim of proving that the driver responsible for your accident and injuries acted in a negligent manner. Do not discuss the accident with the driver. Instead, discuss the details of this matter with our attorney and we will develop a legal strategy tailored to the unique facts of your case.
Cyclist Laws in Houston, TX
Houston has its own unique bicycle riding laws. Houston traffic engineers are legally permitted to display signs on roads that prohibit bike riding. If such a sign is in place, you are not to ride there. Houston also prohibits riding a bike on a sidewalk in a business district. Furthermore, if you are riding a bike on a section of the sidewalk where doing so is legal, you must yield the right of way to pedestrians and provide an audible signal prior to passing or overtaking a pedestrian.
Houston also mandates that children wear a helmet when riding a bike. Children are individuals 18 years of age or younger. Houston even requires that those who lease bicycles provide a helmet for use in the event that the lessee is a child or, at the bare minimum, determine the child has his or her own helmet available.
Car Drivers' Rights and Responsibilities to Cyclists
Drivers are to treat bikes much like cars and give them the right of way when it is prudent to do so. If there is a designated lane for bicyclists, the driver is to drive outside of that lane. In general, drivers should give bike riders at least three feet of space. Drivers are also required to pass bike riders on the left as opposed to the right, waiting until traffic in the adjacent lane is clear. Drivers must also check their blind spots to see if cyclists are present prior to changing lanes. Furthermore, drivers should pay particularly close attention to bicyclists in and near crosswalks. When attempting to park, drivers are to look in their rearview and side mirrors for cyclists prior to opening the driver side door as opening a door in the path of a bike rider is likely to cause a painful accident with serious injuries.
Drivers are to be hyper-aware of bicyclists at intersections because cyclists face an elevated level of danger when progressing through such intersections. Above all, drivers are to share the road with bicyclists, recognizing the fact that these individuals are at an inherent safety disadvantage since they are traveling fairly fast without the considerable protection provided by an automobile.
Cyclists' Rights and Responsibilities
Cyclists also have some legal responsibilities and rights. In short, cyclists' rights are similar to those of motorists. Bike riders are to be aware of local and state laws pertaining to riding a bike in public. The laws applicable to riding a bike in Houston are detailed above. Bike riders are to stop at all stop signs and stoplights. Furthermore, bicyclists should slow to a stop when facing a yellow traffic light. Bike riders are to do everything in their power to be a productive part of traffic rather than a nuisance. This means bicyclists are to ride on the right side of the road and ride in the direction of traffic to their left side. Bicyclists should not dart through traffic, especially when approaching traffic lights and intersections or highway traffic jams. Bicyclists should wear reflective devices as well as reflective gear when riding, especially at dusk or at night.
A cyclist who is riding on a sidewalk in the path of travel of a pedestrian is to provide an audible signal when passing or approaching. Bicyclists must also signal a turn with their arm 100 feet prior to changing lanes or turning. Left turns and lane changes are indicated by extending the left hand and arm horizontally. Right turns and lane changes are signaled with an extension of the right hand and arm in the same manner or with an upward extension of the left hand.
What to Do After a Bicycle Accident
The steps you take in the aftermath of your bike accident have the potential to expedite justice or hamper it. If you are involved in a bike accident with a car, write down the name of the driver, a description of his or her vehicle, and his or her contact information. Take pictures of the accident scene, including the intersection closest to the accident, your damaged bike, damage to the vehicle, and injuries. This documentation has the potential to make or break your case.
If you are involved in an accident with a fellow biker, it is also in your interest to document the accident scene with pictures or a drawing with pen and paper. Do not apologize to the fellow biker, car driver, or any other party involved in the accident, as doing so admits guilt. Obtain the bike rider or driver's insurance information and forward it to your attorney.
Even if your bike accident occurred on bike terrain where no one else was present, there is still the potential to file a successful personal injury lawsuit. It is quite possible the area where the accident occurred was not properly cared for, meaning the property owner or local government negligently failed to provide bicyclists with due care. Take pictures of the accident scene and reach out to medical emergency responders for prompt treatment. The medical documentation provided by these emergency responders in addition to a formal accident report created by police you summon to the accident scene set the stage for justice in the form of a settlement or court award.
Above all, it is in your interest to contact our Houston bicyclist attorney for a consultation where we will review the facts of your case, including the evidence detailed above, setting the stage for a lucrative lawsuit.
Elements of a Bicycle Accident Claim
The bicycle accident legal process begins with filing a claim. Meet with our Houston bicycle accident attorney, and we will gather all relevant information and file the claim on your behalf. This way, you can focus on recuperating and returning your life to a semblance of normal. The next step is determining liability, in which the facts of the case are analyzed to determine if the driver, a fellow biker, or even the property owner/manager is responsible for the accident.
Once liability is determined, the amount of damages is calculated. All expenses ranging from medical treatment causally related to the biking accident to pain, suffering, loss of wages, and diminished earning capacity are considered when determining damages. It is quite possible the defendant's insurance provider will float a tempting settlement offer. The alternative is to prove the defendant's negligence in a court of law so that a court award can be issued to right this egregious wrong.
Bicycle Accident Statistics in Houston
Sadly, Houston bicycle accidents have become that much more frequent in recent years. A total of 34 individuals died in Houston while riding a bicycle this past year. This is more than two times the number of bicycle deaths in 2019. A mere 15 people died while riding bikes through Houston in 2019. The rise in bike accident deaths is likely the result of people spending more time exercising outside during lockdowns in which stores, restaurants, and other venues have been closed.
Best Bike Trails in Houston
Houston has more than its fair share of biking trails worth checking out. In particular, locals rave about the Brays Bayou Greenway Trail at 9601 Braes Bayou Dr. If you are on the prowl for a bike path without a litany of intersections, ride on over to White Oak Bayou Greenway at Heights Trail between Antoine Drive and West 11th Street. The Memorial Park Hike and Bike Trails at 6501 Memorial Dr. and 4501 Woodway Dr., respectively, are also favorites of local biking enthusiasts.
Worst Areas for Bike Riding in Houston
Downtown Houston is particularly dangerous for bike riders as there is a considerable amount of traffic and other activity. Bike riders are also encouraged to remain off of Houston's vast highway system. In terms of intersections, the intersection between South Gessner and Bellaire Boulevard is particularly dangerous. Keep in mind, Houston's intersections were created decades ago, meaning they were designed for automobiles as opposed to bike riders.
How to Avoid a Bike Accident
Do your best to ride your bike as far away from other drivers and fellow bicyclists as possible. Be aware that parked car doors might swing open as drivers emerge. Always wear a helmet and long sleeves and pants just in case you are involved in an accident. It even makes sense to wear elbow pads and knee pads to minimize pain and injuries in the event of an accident. Wear reflective clothing, keep your head on a swivel, and provide drivers with clear indications of upcoming turns and lane changes with the hand and arm extensions detailed above.
Contact Bill Shirer, Houston's Cyclist At Law
If you have been injured in a cycling accident in the greater Houston area or if you have lost a loved one as a result of such an accident, contact the Cyclist At Law today. You can reach Bill Shirer's law office by phone at 800-887-6188 or 972-392-1249. You can also contact our law firm online by filling out our convenient online contact form.