Houston Bicycle Accident Lawyer
Experienced Bike Riding Personal Injury Lawyer for Houston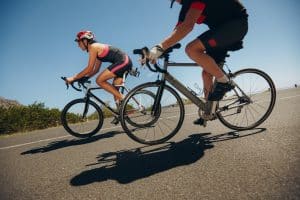 A bicycle accident is a life-changing experience. While automobiles are laden with thousands of pounds of steel for protection, bicyclists are unprotected but for a helmet and possibly a few pads. This is precisely why you should only trust a proven bike accident attorney to spearhead your quest for justice in your bicycling accident case. Bill Shirer, Cyclist At Law, is that attorney.
Bill, an avid bicyclist, takes great pride in getting his clients compensation they deserve after being in a bicycle accident. If you are involved in any type of bicycling accident or if you have lost a loved one as a result of such an accident, do not suffer in silence. Lean on our bike accident attorney in Houston for guidance, and you will stand a much better chance of obtaining justice in the form of financial compensation.
You will have a much better chance of obtaining justice in the form of financial compensation with us on your side. There's a reason we claim to be the best bicycle accident attorney in Houston.
Common Bicycle Injuries
You might be wondering when a Houston bicycle accident lawyer can be of your assistance. What type of accidents can occur while cycling that might require you to contact a bicycle accident attorney at the earliest?
Not many people know how common bicycle injuries are. Indeed, some of these cycling accidents can even be fatal! Usually, it's the injuries to the head that take most lives. Long-term disabilities can also result in cycling accidents.
Naturally, you have to abide by all the cycling laws and take care of safety precautions when you take your bike out on the road. You increase the risk of incurring bicycle injuries if you don't wear a helmet or ride at high speeds. Accidents can also occur as one loses control of the bicycle or is inexperienced in riding on the roadways.
Cycling accidents can result due to alcohol and substance abuse, competitive riding or motorist errors. Mechanical failure of the bike is also a common cause.
When you are involved in a cycling accident and wish to seek compensation, endeavor to get the best bicycle accident attorney in Houston. This will help you significantly when the opposite side tries to pin the blame on you, which unfortunately happens quite often.
Typically, bicycle injuries are instantly noticeable. However, sometimes, your symptoms might take a while to become apparent. Cycling accidents can lead to injuries all over the body. The thing is, bicycles are pretty lightweight with slim frames. Therefore, it doesn't take a lot for them to be totally wrecked.
While you can have your bike replaced or repaired, your injuries will not heal as easily. It might be some time before you have recovered from the accident completely. This is why Houston bicycle accident attorneys are so much in demand. People want to be compensated for their physical and mental injuries.
Here's a look at some of the common injuries one can encounter following a cycling accident.
Soft tissue abrasions, lacerations and contusions
Skull fracture or head concussion

Brain contusions

Head trauma leading to traumatic brain injury or intracranial hemorrhage

Contusions on the face or eyes

Facial and dental fractures

Corneal damage due to foreign bodies

Joint strains or dislocations

Rib fractures

Parenchymal lung injury

Splenic rupture

Hepatic laceration

Renal contusion

Pancreatic trauma

Traumatic hernia

Vascular perforation

Urethral and vulva trauma

Rectal trauma

Pelvic fractures
This is only scratching the surface, as a lot can go wrong while cycling. Of course, this does not imply you shouldn't ride at all. It merely means you need to be careful. And know when to contact a Houston bicycle accidents lawyer.
Does your insurance cover your bike accident injuries?
This depends on your insurance policy. Some policies do cover damages and injuries caused by cycling accidents. But that's not always the case.
How A Houston Bicycle Accident Lawyer Can Help
Yes, you have legal rights and can recover compensation for damages and injuries caused by a bike accident. But only if you have an experienced Houston bicycle accident attorney on your side!
After you have recollected your nerves and received immediate medical attention after the accident, you should contact a Houston bike accident lawyer at the earliest. The attorney will evaluate your case and inquire about the details. He will expect you to give a detailed account of the accident and also how the accident has affected you and your quality of life.
This is where experience counts. A bike accident lawyer like Bill Shirer will know what specific information can help build you a stronger case.
Most Houston bicycle accident lawyers begin by trying to find the cause of the accident. Who was at fault, and what was the reason for the collision? This will determine the fate of your case. They will also dig deep into the injuries you incurred and the damages you had to bear. The damages to your property are included in this too.
The bike accident attorney will focus on not only the accident but also its repercussions. How did your life get impacted due to the injuries? Perhaps you had to lose your work, or maybe the injuries will take a long time to recover, causing mental trauma.
The bicycle accident attorney will also want to get his hands on the estimated costs of your injuries and if you have any insurance policies to pay for the same. It would help your case a great deal if your accident had a witness or you managed to take some photos at the site of the accident.
Determining Liability for a Bicycle Accident
The liability for your bicycle accident hinges on the unique facts of your specific case. Drivers are typically considered liable for bicycle accidents because they are driving machines weighing thousands of pounds while bicyclists have minimal or even no protection. However, there are some instances when the bicyclist may be found partially or fully liable.
As long as you were obeying traffic signals, riding on the correct side of the street, and not acting in a negligent manner, there is a good chance you will not be found liable in your bike accident case, meaning you will stand a good chance of obtaining monetary damages with the assistance of our Houston bike accident attorney. In short, drivers are held to a standard of care that is higher than that of bicyclists since bicyclists are that much more vulnerable than those in well-protected vehicles.
What matters most is proving negligence. Negligence is a legal term used by lawyers in reference to failing to provide due care to others in the vicinity. Though there is the potential for a bicyclist to be assigned contributory negligence if their injuries are partly caused by their own negligence, drivers are typically found to be negligent more often than bicyclists. Our bicycle accident attorney in Houston is here to analyze your case, collect evidence, and interview witnesses with the overarching aim of proving that the driver responsible for your accident and injuries acted in a negligent manner. Do not discuss the accident with the driver. Instead, discuss the details of this matter with our attorney and we will develop a legal strategy tailored to the unique facts of your case.
Investigating Your Case
By an Experienced Houston Bike Accident Attorney
Naturally, you can't expect the bike accident lawyer to merely take your word to build the case. He will be investigating the incident on his own too. Sometimes, experts are brought on board if the lawyer wants some additional information.
During the investigation, your bike accident attorney will return to the scene and inspect it closely. He will get the crash report from the authorities and also take pictures of the damages. He will gather your medical reports and also interview witnesses.
What Evidence Does A Bike Accident Lawyer Look For?
Bicycle accident attorneys review the various aspects of your case. After all, their goal is to build a strong case which will get the verdict in your favor.
Hence, they document proof of injuries and damages. They will collect the total cost of your medical treatment, both current and future. Physical therapy and medication are also included in this.
The attorney will also present proof of the financial loss you had to bear due to your absence from work owing to the accident. And of course, proof of damage to your property is also crucial for the case.
And it's not only about physical damage. Bicycle accident attorneys in Houston also elaborate on the mental anguish and pain you had to suffer due to the accident.
Filing Of The Case
Once all the evidence is compiled, and your case appears strong enough, your lawyer will send a letter to the insurance company and commence negotiation for settlement.
Note that the demand letter will contain the amount of compensation you are seeking while also elaborating on the damages you had to bear and similar other details of the accident.
If you have the best bicycle accident attorney in Houston, the ordeal might be over sooner than you think. The insurance company might agree to pay the settlement. But if not, your lawyer will file a lawsuit on your behalf.
Typically, insurance companies prefer settling out of court. But that's not always the case. Hence, you have to ensure you have hired a reliable Houston bicycle crash attorney capable of putting up your case strongly in front of a jury or judge.
It's not uncommon for some personal injury attorneys to underestimate the damages. This is where you will need someone who understands the implications of the cycling, a lawyer who loves the sport. You need someone who will ensure you don't end up with a shorter end of the stick. Bill Shirer of Houston, TX is here to make sure your legal rights are protected, and you get your deserving compensation!
Cyclist Laws in Houston, TX
Houston has its own unique bicycle riding laws. Houston traffic engineers are legally permitted to display signs on roads that prohibit bike riding. If such a sign is in place, you are not to ride there. Houston also prohibits riding a bike on a sidewalk in a business district. Furthermore, if you are riding a bike on a section of the sidewalk where doing so is legal, you must yield the right of way to pedestrians and provide an audible signal prior to passing or overtaking a pedestrian.
Keep in mind that bicycles are considered equivalent to vehicles in Houston, Texas. Hence, cyclists have to abide by all the traffic laws and roadway rules, same as motor vehicle drivers. They cannot pass through a stop sign without stopping or ignoring the pedestrian's right of way at intersections.
Always remember that simply because you are on a lightweight bike does not imply that traffic rules do not apply to you. You have the same set of responsibilities as other vehicles. Additionally, parents have to ensure their children do not violate road rules while biking knowingly.
If you are found guilty of negligence, even the most experienced bike accident attorney in Houston will have a tough time getting you compensation. Of course, you can always trust Bill Shirer to do what's best for you.
Of course, cyclists, too, have legal rights in Houston. For one thing, vehicles have to yield the right of way to bicyclists, same as other vehicles. If there's a four-way intersection, the vehicle has to yield to the cycle that arrived first.
Naturally, if the vehicle arrives first, it's the responsibility of the cyclist to yield the right of way. Cyclists have the right to ride in the roadway in Houston unless there's a separate path for bikes. Vehicle drivers are always required to maintain a distance of three feet from a bicyclist.
Bicyclists can only ride in the same direction as the traffic on the road. It's best if they keep as far to the right as possible. Cyclists can leave the right side to pass a vehicle, turn left or avoid some obstacle along the way.
According to section 45-302 of the Houston Code of Ordinances, you are not allowed to ride a bike on a sidewalk within the business district. Hence, cyclists in downtown Houston have to stay on the roads unless separate paths are available.
You can ride on sidewalks, but make sure to give audible signals before overtaking or passing pedestrians.
Houston also mandates that children wear a helmet when riding a bike. Children are individuals 18 years of age or younger. Houston even requires that those who lease bicycles provide a helmet for use in the event that the lessee is a child or, at the bare minimum, determine the child has his or her own helmet available. Note that children do not have to wear helmets when riding on private roadways or lands.
It's mandatory that the helmets meet the standards set by federal organizations like Snell or the Department of Transportation (DOT). It also has to be ensured that the helmet fits well on the child's head. If a child under the age of 14 is found riding a bicycle without a helmet, parents will be considered responsible.
There's no universal helmet law for adult cyclists in Texas. Bicyclists have to make sure their bikes have a front white light which is visible from at least 500 feet. It's also mandatory for the bicycle to have a red rear reflector, visible from 50 to 300 feet to the rear of the bicycle.
If you were doing everything right and got involved in a bike accident in Houston, do not hesitate to contact our bicycle accident lawyer in Houston. We will make sure the culprit is brought to justice.
Car Drivers' Rights and Responsibilities to Cyclists
Drivers are to treat bikes much like cars and give them the right of way when it is prudent to do so. If there is a designated lane for bicyclists, the driver is to drive outside of that lane. In general, drivers should give bike riders at least three feet of space. Drivers are also required to pass bike riders on the left as opposed to the right, waiting until traffic in the adjacent lane is clear. Drivers must also check their blind spots to see if cyclists are present prior to changing lanes. Furthermore, drivers should pay particularly close attention to bicyclists in and near crosswalks. When attempting to park, drivers are to look in their rearview and side mirrors for cyclists prior to opening the driver side door as opening a door in the path of a bike rider is likely to cause a painful accident with serious injuries.
Drivers are to be hyper-aware of bicyclists at intersections because cyclists face an elevated level of danger when progressing through such intersections. Above all, drivers are to share the road with bicyclists, recognizing the fact that these individuals are at an inherent safety disadvantage since they are traveling fairly fast without the considerable protection provided by an automobile.
Cyclists' Rights and Responsibilities
Bike riders should be aware of local and state laws pertaining to riding a bike in public. The laws applicable to riding a bike in Houston are detailed above. Bike riders are to stop at all stop signs and stop lights. Furthermore, bicyclists should slow to a stop when facing a yellow traffic light.
Bike riders are to do everything in their power to be a productive part of traffic rather than a nuisance. This means bicyclists are to ride on the right side of the road and ride in the direction of traffic to their left side. Bicyclists should not dart through traffic, especially when approaching traffic lights and intersections or highway traffic jams. Bicyclists should wear reflective devices as well as reflective gear when riding, especially at dusk or at night.
A cyclist who is riding on a sidewalk in the path of travel of a pedestrian is to provide an audible signal when passing or approaching. Bicyclists must also signal a turn with their arms 100 feet prior to changing lanes or turning. Left turns, and lane changes are indicated by extending the left hand and arm horizontally. Right turns, and lane changes are signaled with an extension of the right hand and arm in the same manner or with an upward extension of the left hand.
Bicycles should always have well-functioning breaks to stop the bikes on a clean and dry pavement on time. If you are found riding a bike without safety equipment, you will be on the wrong side of the law.
What to Do After a Bicycle Accident
The steps you take in the aftermath of your bike accident have the potential to expedite justice or hamper it. If you are involved in a bike accident with a car, write down the name of the driver, a description of his or her vehicle, and his or her contact information. Take pictures of the accident scene, including the intersection closest to the accident, your damaged bike, damage to the vehicle, and injuries. This documentation has the potential to make or break your case.
If you are involved in an accident with a fellow biker, it is also in your interest to document the accident scene with pictures or a drawing with pen and paper. Do not apologize to the fellow biker, car driver, or any other party involved in the accident, as doing so admits guilt. Obtain the bike rider or driver's insurance information and forward it to your attorney.
Even if your bike accident occurred on bike terrain where no one else was present, there is still the potential to file a successful personal injury lawsuit. It is quite possible the area where the accident occurred was not properly cared for, meaning the property owner or local government negligently failed to provide bicyclists with due care. Take pictures of the accident scene and reach out to medical emergency responders for prompt treatment. The medical documentation provided by these emergency responders in addition to a formal accident report created by police you summon to the accident scene set the stage for justice in the form of a settlement or court award.
Above all, it is in your interest to contact our Houston bicyclist attorney for a consultation where we will review the facts of your case, including the evidence detailed above, setting the stage for a lucrative lawsuit.
Once your injuries are stabilized, you must contact your bicycle accident lawyer. He will help you in the best way possible.
Keep in mind that not all injuries in bicycle accidents can be compensated. Sometimes, the accident could be the biker's responsibility. But if someone else was even partly responsible for the incident, you can file a legitimate claim. And this is where Bill Shirer and his experience will prove to be highly beneficial.
We will listen to your side of the story and then determine the viability of your claim. Remember, you don't always have to file a lawsuit, even if someone else was at fault for the accident. You can use other legal alternatives to get your compensation.
An experienced bike accident lawyer will know which will be the most suitable route for you and guide you accordingly. We can also bargain with your insurance carriers for a settlement to cover your damages.
Elements of a Bicycle Accident Claim
The bicycle accident legal process begins with filing a claim. Meet with our Houston bicycle accident attorney, and we will gather all relevant information and file the claim on your behalf. This way, you can focus on recuperating and returning your life to a semblance of normal. The next step is determining liability, in which the facts of the case are analyzed to determine if the driver, a fellow biker, or even the property owner/manager is responsible for the accident.
Once liability is determined, the amount of damages is calculated. All expenses ranging from medical treatment causally related to the biking accident to pain, suffering, loss of wages, and diminished earning capacity are considered when determining damages. It is quite possible the defendant's insurance provider will float a tempting settlement offer. The alternative is to prove the defendant's negligence in a court of law so that a court award can be issued to right this egregious wrong.
What Compensation Can I Expect After A Bike Accident In Houston Today?
It all comes down to your bike accident attorney. Usually, the injured party can get a fair amount of compensation from the one responsible for the accident. Of course, your bike accident lawyer will have to prove that someone else's negligence was responsible for the accident.
The lawyer will look to convince the court that the driver responsible for the accident failed to abide by the rules of the road or was involved in reckless driving due to which the collision occurred.
The best bike accident lawyers in Houston will ensure your economic and non-economic losses are recovered from the compensation. You can expect compensation for your current and future medical bills and treatments and also for the loss of your earning capacity.
When you bring Bill Shirer on board, you can be assured you will get your rightful compensation. Our bicycle accident law firm in Houston is well-versed in laws related to Houston bicycle accidents. Hence, we will make sure you have a strong case which will tilt the verdict in your favor.
Bicycle Accident Statistics in Houston
Sadly, Houston bicycle accidents have become that much more frequent in recent years. A total of 34 individuals died in Houston while riding a bicycle this past year. This is more than two times the number of bicycle deaths in 2019. A mere 15 people died while riding bikes through Houston in 2019. The rise in bike accident deaths is likely the result of people spending more time exercising outside during lockdowns in which stores, restaurants, and other venues have been closed.
Best Bike Trails in Houston
Houston has more than its fair share of biking trails worth checking out. In particular, locals rave about the Brays Bayou Greenway Trail at 9601 Braes Bayou Dr. If you are on the prowl for a bike path without a litany of intersections, ride on over to White Oak Bayou Greenway at Heights Trail between Antoine Drive and West 11th Street. The Memorial Park Hike and Bike Trails at 6501 Memorial Dr. and 4501 Woodway Dr., respectively, are also favorites of local biking enthusiasts.
Worst Areas for Bike Riding in Houston
Downtown Houston is particularly dangerous for bike riders as there is a considerable amount of traffic and other activity. Bike riders are also encouraged to remain off of Houston's vast highway system. In terms of intersections, the intersection between South Gessner and Bellaire Boulevard is particularly dangerous. Keep in mind, Houston's intersections were created decades ago, meaning they were designed for automobiles as opposed to bike riders.
How to Avoid a Bike Accident
Do your best to ride your bike as far away from other drivers and fellow bicyclists as possible. Be aware that parked car doors might swing open as drivers emerge. Always wear a helmet and long sleeves and pants just in case you are involved in an accident. It even makes sense to wear elbow pads and knee pads to minimize pain and injuries in the event of an accident. Wear reflective clothing, keep your head on a swivel, and provide drivers with clear indications of upcoming turns and lane changes with the hand and arm extensions detailed above.
Always stay vigilant of motor vehicles and do not ride on your bike if you drink or use illegal substances. Ensure that your bike's in optimal mechanical condition and do not ride at high speeds. Be careful of the objects in the roadway and exhibit special caution while riding on poorly maintained roads.
Taking these simple measures can lessen the severity of your injuries if you are involved in a bike crash. And the rest will be taken care of by our expert bike accident attorney.
Contact Bill Shirer, Houston's Cyclist At Law
If you have been injured in a cycling accident in the greater Houston area or if you have lost a loved one as a result of such an accident, contact the Cyclist At Law today. You can reach Bill Shirer's law office by phone at 800-887-6188 or 972-392-1249. You can also contact our law firm online by filling out our convenient online contact form.