Bicycle Accident Attorney Houston, Tx
HOUSTON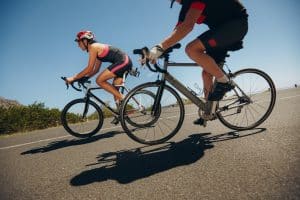 When a driver fails to share the road with cyclists, the results can be catastrophic. Accidents that occur can severely injure a cyclist and cause long-lasting damage. If you have been injured by a negligent driver who failed to abide by the rules of the road, you need to speak to a bike accident attorney in Houston right away. Cyclist at Law has the knowledge and skill to recover for your damages and get you the money you need.
Pedestrian Bicycle Accidents
Mode of transport almost never determines fault in a road accident. Instead, most insurance companies and courts determine fault using the law of negligence. A driver or cyclist, for example, owes care to other individuals in their proximity, such as passengers or innocent bystanders. If they breach this duty and cause these individuals injury or property damage, they are legally at fault for the accident.
As a result, cyclists must be aware of and careful around pedestrians. On the other hand, a pedestrian would be in breach of their duty of care by walking outside of a crosswalk or carelessly emerging from between two parked cars. Determining fault is not an easy task, and usually requires third-party accounts, eyewitnesses, and further information. If you've been in a bicycle accident, contact our firm at 972-392-1249  today. We'll assist in determining exactly who was at fault.
Head Injuries
Millions of Americans ride their bike to work, to school, or for leisure. Unfortunately, less than half of these cyclists wear proper bicycle helmets. In recent years, as many as 800 cyclists have been killed due to bicycle accidents that occurred without the protection of helmets. Over 515,000 people are injured annually for the same reason.
In a court of law, the jury may rule the cyclist to be responsible for an injury or accident if they did not wear a helmet. If you are found to be at fault, you may be wholly responsible for any property damages, medical costs, or loss of working hours that occur because of the incident. Carelessness can be costly. To avoid all of this, simply wear a helmet while riding in public — especially on busy streets where cars and pedestrians are constantly in motion. You owe yourself some basic protection.
WHY YOU NEED A BIKE ATTORNEY
After you have suffered an injury, there are many stressors you may encounter. An experienced attorney can assist you in focusing on getting your life back on track. Here is why you need a Houston bike attorney:
They can assist you in understanding your rights
They can negotiate with the insurance companies to obtain a fair settlement
They will act as a powerful legal advocate for you.
When you hire Cyclist at Law, you can rest easy that your attorney will fight for everything you are entitled to under the law.
DON'T SETTLE FOR LESS THAN YOU DESERVE FOR YOUR BICYCLE INJURIES
Bicycle accidents cause significant physical pain, but often carry an additional financial burden. There can be many long-term consequences of cycling accidents like rehabilitation and therapy. You may find it hard to ride the Houston trails again, and you deserve compensation for that loss of enjoyment. When you hire an experienced Houston bicycle accident attorney like Cyclist at Law, we will get to work right away to ensure you get what you deserve, even if that means going to court to get it.
CALL A HOUSTON, TX BICYCLE ACCIDENT LAWYER TODAY
At Cyclist at Law, we are ready and prepared to help you. To speak with a bicycle accident attorney in Houston from our firm, call 972-392-1249 today.