Bicycle Accident Attorney Port Arthur, Tx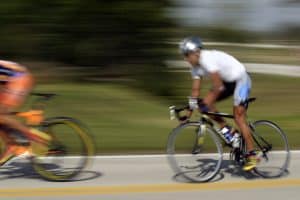 When you have been injured in a bicycle accident, you need legal help right away. Don't let the insurance companies push you into a settlement that is less than you deserve. You need a powerful legal advocate on your side to fight for the maximum compensation for your injuries. Your pain, emotional distress and lost wages are worth more than they want to give you. Bill Shirer, Cyclist at Law, is a force to be reckoned with in the Port Arthur legal community. He is dedicated to helping you with your claim.
Bicycle Accident Compensation
Riding a bike can be dangerous. Collisions with cars and trucks injure cyclists on a daily basis. Even riding along a designated bicycle route can be perilous, depending on weather conditions and other cyclists. Since most collisions occur between cars and bikes at intersections, city streets are considered the deadliest place to ride. Bicycles do have the same rights as motor vehicles; however, many drivers fail to respect those rights.
If you're a cyclist who has been injured in a collision, you are entitled to compensation. However, you must be willing and able to prove that the other driver is at fault. The compensation amount you receive can vary. It typically includes payment for property damage, medical bills, rehabilitation, loss of work hours, and psychological or emotional pain. Give us a call at 972-392-1249, and we'll fight for the highest amount of compensation possible.
WHAT DOES A CYCLING ATTORNEY DO?
The legal process involved in a bicycle accident injury claim can be confusing. Cyclist at Law will:
Explain your rights in your specific case.
File your claim in court and fight for the compensation you deserve.
Navigate the insurance companies so that you get a fair deal.
If you want an experienced bicycle accident attorney in Port Arthur, contact Cyclist at Law.
YOUR BICYCLE INJURIES SHOULDN'T HOLD YOU BACK
Those involved in the sport of cycling have dedication and endurance like no other. Cyclist at Law understands those involved in the sport and is dedicated to helping you get back to what you love. Your injuries may require countless hours of rehabilitation and therapy. You deserve proper reimbursement so that you can get back on the Port Arthur bike trails again. Cyclist at Law is ready and willing to speak to you about your case today.
CALL YOUR PORT ARTHUR, TX BIKE ATTORNEY IMMEDIATELY
When you are injured on your bike by someone else's negligence. Call Cyclist at Law at 972-392-1249 today!