Bicycle Accident Attorney Roanoke Texas
Get Fair Compensation for Bike Accidents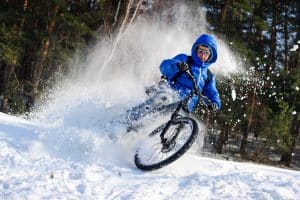 Simply because a bike isn't as expensive as an automobile doesn't mean that bicycle injuries and claims aren't just as expensive as automobile accident claims. A Roanoke bicycle accident attorney from Cyclist at Law is committed to doing everything possible to make sure you're awarded with a fair settlement for your bicycle accident injuries. Cyclists who ride alone or with Roanoke cycle meetups deserve to ride in the road alongside automobiles just as much as they deserve the professional legal assistance of a bicycle accident attorney in Roanoke.Learn just how much your claim is worth and how to build a case to help increase your chances of winning a full settlement.
Your Accident May Not Be Your Fault
Here at Cyclist at Law we've found that a majority of insurance companies attempt to blame the cyclist for bicycle injuries when the actual fault lies with drivers who aren't paying attention. Your bicycle accident lawyer is here to help you determine exactly who is at fault and how much your bicycle accident injuries are worth. In order to help build your case, we recommend that cyclists:
File a claim with their insurance company regardless of whether or not the company decides to blame the cyclist for the accident
Gather copies of medical forms and any medical costs that resulted from injuries
Get copies of claims filed with the insurance company
Make copies of any documents noting whether or not they're able to work after their injuries
Keep up with how much they lost in wages because of their injuries
A bicycle accident attorney in Roanokewill remain with you from your initial consultation until your case has been officially closed. Don't hesitate to let us know if you ever have questions or concerns regarding your claim. While treating your injuries immediately is important, your future needs to be next on your list.
Fatal Bicycle Accident Attorney in Roanoke, Texas
Losing a loved one before their time is the most devastating experience in the world. Far too many bicycle riders go off for a quick afternoon ride and never come back. If you or your family has experienced loss as a result of a fatal bicycle accident, you deserve justice and compensation for your loss.
It only takes one wrong turn on the streets for a fatality to occur. This type of case is personal to us. You see, we're also cyclists. When a fatal accident occurs, it's our duty as both attorneys and riders to bring about justice. We know this is a challenging time, and we're here to provide support in whatever way possible.
About Roanoke, TX
Roanoke is a place filled with history. The main road through town, State Highway 114 Business, is named "Byron Nelson Boulevard" in honor of the golfer. Roanoke is also home to a hotel where bank robbers Bonnie and Clyde spent their time in the 1930s. Today, the area has quieted down some. People go about their business, tourists visit, and families raise children and enjoy their time together.
Recently the town of Marshall Creek consolidated with Roanoke, growing the community and bringing new life to it. Families just like yours in Roanoke, who work hard at places like Tom Thumb Food & Pharmacy, rely on our professional services. As you bike the streets of Roanoke, passing by The Plaid Peacock or Kiki LaRue Boutique, know that you can count on the services of an experienced attorney who knows the industry and this town.
Speak With a Representative Today
To see how much your bicycle injuries are truly worth, Contact or Call Cyclist at Law today at 972-392-1249. Time is of the utmost essence when it comes to legal matters.