Bicycle Accident Attorney Trophy Club Texas
Receive Fair Compensation for Your Bicycle Accident Claim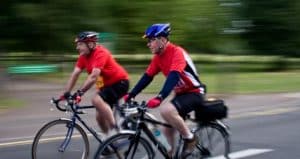 If you've recently sustained bicycle injuries from an accident in Trophy Club, an experienced bicycle accident lawyer from Cyclist at Law is here to make sure that you receive every penny that you are legally owed. Rather than going to just any type of legal professional for bicycle accident injuries, it's best that cyclists turn to a bicycle accident attorney in Trophy Club to assist them with their case. Bicycle law is a very specific area of the law, and it's important that your case, injuries and your financial future are handled by someone who knows what they're doing.
We Know Your Rights and Will Fight to Protect Them
Bill Shirer is knowledgeable about bike safety in Trophy Club and your rights as a cyclist. If your bicycle injuries weren't entirely your fault, a bicycle accident lawyer can help you make a physical and financial recovery. Facts concerning bicycle accident injuries include:
A majority of cyclists aren't responsible for accidents even though they're often wrongly blamed for them
A cyclist has the same duties and rights as a motorist
It's often the motorist's fault whenever a bicycle accident occurs
Insurance companies often hold the cyclist responsible for the accident and refuse to offer fair compensation for injuries
Rather than fight with insurance companies, let a Trophy Club bicycle accident attorney take over your case while you put all of your time and energy into making a full recovery. Not only will Bill Shirer compensate you for your bicycle injuries, he will also see to it that your bicycle is either repaired or replaced.
Schedule a Consultation Today
A bicycle accident lawyer from Cyclist at Law is standing by to see if you have a case on your hands for your bicycle accident injuries. Cyclists shouldn't be made to pay for someone else's mistakes. Call a bicycle accident attorney in Trophy Club today at 972-392-1249 and let's get started on building your case.