Tyler Bicycle Accident Lawyer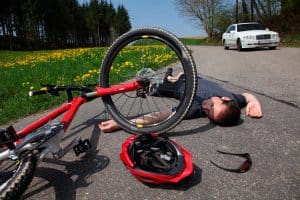 Texas law is on your side if you are a bicyclist injured by a motorist who did not properly share the road with you. The legal team at the Cyclist At Law offices is also on your side. If you are injured in an accident caused by a negligent motorist or on one of the popular trails in Tyler, you need the legal guidance of a lawyer immediately. Our attorneys focus on cases like yours and are here to make sure you know your rights after an accident. A Cyclist At Law bicycle accident attorney in Tyler has the expertise you need to handle your claim and get the compensation you deserve.
Cyclists At Law Works for You
Even though Texas law gives cyclists the right to share the road, insurance companies often try to blame collisions on the bike rider. Motorists who are inattentive or aggressive toward bicycle traffic are at fault in these accidents. Contact our law firm as soon as you can after bicycle injuries to talk about the many ways we work for you in this difficult time:
We inform you of your rights as a cyclist harmed by motorist negligence
We take the pressure off of you by managing any inquiries or accusations from insurance companies
We file a cycle accident claim for you and guide you through the process
You may not realize how important it is to have a lawyer on your side, but injuries can be long-lasting and affect all areas of your life due to:
Inability to perform normal tasks
Costly medical treatments
Lost wages due to missed work or inability to return to work
Make sure you have legal representation in case you face any of these difficulties. We would be proud to have our attorneys at Cyclist At Law work for you.
Contact Cyclist At Law to Get an Attorney on Your Side
Remember that the insurance companies may not work with you even if you have the law on your side. If you are injured after a bicycle accident in the area, speak to a Tyler bicycle accident attorney about your rights. Call our offices at 972-392-1249
today.