Tips for Night Cycling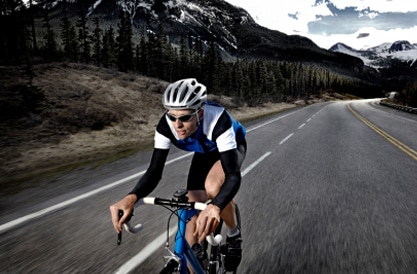 Night cycling can be a thrilling experience, but it can also be rather dangerous, especially on busy roads. Some people rely on their bikes for commutes from work and get caught a bit late at the office. When you are cycling at night, you need to take the proper precautions to stay safe and avoid a bicycle accident. Here are a few tips you can use while night cycling.
Be Visible
Wearing reflective clothing such as a bright jacket with reflecting strips can increase your visibility considerably. There are reflective decals that you can purchase and add to any of your typical riding attire. Make sure to add them to your helmet and shoes so people can properly identify where your body is sitting on the bike to avoid any close calls.
Light it Up
Flashing lights on your bike itself can also help vehicles see you and avoid you at night. Knog and Blackburn make great lightweight options that attach easily to your handlebar or seat post. While these lights aren't strong enough to help with navigation, they do help keep you visible.
Follow the Law
There is never a better time to follow road etiquette then when you are night cycling. Follow all traffic laws, stop signs, and stop lights. Make sure to remain in one lane and properly signal when you are turning. Double check that any drivers near you are heeding to your signal and never assume a car sees you or will stop.
Bring a Phone
One of the best pieces of safety equipment you can have on you is your cellphone. If you are injured or stuck out on the road, you can call for help quickly. It can also serve as a flashlight if you have an emergency repair or flat.
If you have been injured in a bike accident while night cycling, call Cyclist at Law today at 800-887-6188. We can get you proper compensation for your injuries.