Allen Bicycle Accident Lawyer
Allen Texas Bike Injury Lawyer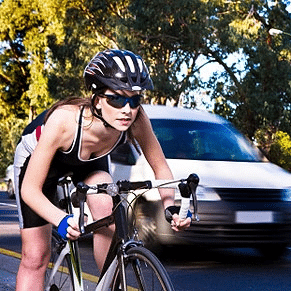 We at Cyclist at Law, focus on bicycle accidents. Not only is this personal injury attorney familiar with bicycle law, but I am also a cyclist. Whether you are trying to claim for bicycle accident damages such as replacing your bike or claiming for medical bills you've had as a result of a bicycle injury, I can help you negotiate with your insurance company for your personal injury case .
I can help answer your insurance questions, such as:
How Do I Get My Bike Replaced?
Bicycle Accident Statistics Allen, TX
In 2015, there were an estimated 45,000 cyclist injuries in the United States. That's 5,000 fewer than in 2014, when there were an estimated 50,000 injuries. However, 818 people were killed in bicycle accidents in 2015. This represents a 6 percent increase in bicycle-related deaths since 2006. All of these statistics prove the dangers associated with riding a bike. Of course, any mode of transportation comes with some level of risk. Cyclists can protect themselves by riding carefully and, in the event of an accident, getting help from a bicycle accident attorney.
Do you have further questions about bicycle accident statistics in Allen, TX? Contact Cyclist at Law today for more information! We're always happy to offer our assistance.
Bicycle Accident Settlement in Allen
If you were in a biking accident that was someone else's fault, Texas law allows you to make a claim for compensation. A successful settlement could allow you to recover compensation for lost income, medical expenses, and other damages. If you want to receive a fair settlement, then you need to make your claim as soon as possible. Don't hesitate to get in touch with a professional bicycle accident attorney. In addition, it's crucial that you gather as much information as possible at the scene.
Do you have further questions about how to pursue a bicycle accident settlement in Allen, TX? Contact Cyclist at Law today for more information!
Without Helmets Bicycle Accidents
If you bike without a helmet, you are much more likely to suffer a major head injury. This fact does not come as a surprise to most people. In case of an accident, helmets can help prevent both bleeding and traumatic brain injuries. If you choose not to wear a helmet, you're also much more likely to break facial bones. You may even die from your injuries. It's been estimated that close to half of all bike riders do not wear a helmet — this is seriously dangerous.
Do you have further questions about bicycle accidents that occur without helmets? Contact Cyclist at Law today for more information!
About Allen TX
Allen has grown rapidly in recent years and now offers more than 180 restaurants, as well as fabulous outdoor shopping areas such as Watters Creek at Montgomery, The Village at Allen and Allen Premium Outlets. Allen is also home to a professional indoor football team called the Allen Wranglers.
Here to Help and Advise
As a bicycle accident attorney in Allen, TX with over 23 years of experience trying bicycle accident and personal injury cases, I can help you and advise you on how to get compensated if you've been a victim of a bicycle accident.