Carrollton Bicycle Accident Lawyer
Carrollton, Texas Bike Injury Lawyer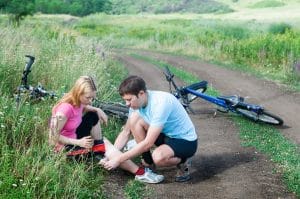 Bill Shirer, Cyclist at Law, focuses on bicycle accidents and is your Carrollton bicycle accident attorney. Not only is this personal injury attorney familiar with bicycle law, but he also is a cyclist. Whether you are trying to claim for bicycle accident damages such as replacing your bike or claiming for medical bills you've had as a result of a bicycle injury, Bill Shirer can help you negotiate with your insurance company for your personal injury case .
He can help answer your insurance questions, such as:
How Do I Get My Bike Replaced?
About Carrollton, TX
Forbes Magazine recently ranked Carrollton, TX as number 12 amongst "America's Best Places to Move" and Money Magazine has garnered it status as the 15th"Best Place to Live in the U.S." Carrollton has many popular attractions in the areas, including the Dallas School of Music, the A.W. Perry Homestead Museum and the Carrollton Town Square.
Here to help and advise
As a bicycle accident attorney with over 23 years of experience trying bicycle accident and personal injury cases, Bill Shirer, Cyclist at Law is a bicycle accident attorney that can help you and advise you on how to get compensated if you've been a victim of a bicycle accident.