Dedicated Bike Accident Attorney for Killeen, TX Residents
Experienced Bike-Riding Personal Injury Lawyer for Killeen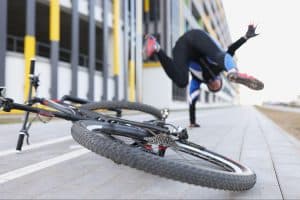 A bike accident doesn't have to decimate your finances or your spirit. Find the right bicycle accident attorney in Killeen, Texas, and you'll be that much closer to returning your life to normal. Bill Shirer, Cyclist at Law, is here to help you bounce back from your bike-riding accident. Whether you have lifelong injuries or minor injuries stemming from this unfortunate incident, you will greatly benefit from the assistance of our Killeen personal injury lawyer. 
Part of what makes Bill Shirer, Esq., Killeen's best bike accident attorney is the fact that he rides regularly. Venture out onto the local biking trails on the weekends, and you just might spot Bill riding. Bill understands your perspective after a bicycling accident. Contact our law office after you obtain emergency medical care, and we'll do our part to help you obtain the financial compensation you need to return your life to normal. Bill has zealously advocated on the behalf of victims while serving as a trial lawyer over the last three decades.
Our Cyclist at Law is board certified to practice personal injury law throughout Killeen and beyond. Meet with Bill in the aftermath of your bike-riding accident, and he'll help you rebound as quickly as possible. Tell Bill exactly what occurred on the day or night of your accident, and he will determine if filing a personal injury lawsuit is likely to lead to a settlement offer or a favorable outcome in court.
Determining Liability for a Bicycle Accident
Your Killeen bicycle accident is possibly the result of another party's negligence. Negligence is a term commonly used by attorneys and others in the legal sphere to refer to the failure to provide another party with the appropriate level of care while he or she is in the vicinity. Though it is possible that you are also somewhat at fault for the accident, your partial liability does not preclude eligibility for considerable financial compensation in the form of a court award or settlement.
A driver, bicyclist, bike technician, bike manufacturer, or even wayward pedestrian might also be partially liable for the accident. Bill Shirer is here to break down the facts of the case, analyze the police report, review witness statements, and collect evidence to help prove others' negligence, setting the stage for a considerable payout.
It will be that much easier to prove the negligence of another party if you take the initiative to take pictures of your injuries, the accident scene, your damaged bike, and damage to others' property. If anyone is in the vicinity of the accident, record their eyewitness statements with your smartphone's video recording feature, ensuring they provide their names and contact information for future reference.
Our Cyclist at Law in Killeen will fiercely advocate on your behalf to prove the negligence of other parties and obtain compensation. However, the initial settlement offer might not be sufficient. If this initial offer is unfair, Bill will continue advocating on your behalf until a better offer is provided or a favorable court award is handed down. Unlike many other Killeen personal injury attorneys, Bill isn't afraid to engage in legal battles in court.
It's important that you connect with our Cyclist at Law in the aftermath of your bike-riding accident for guidance. We will spearhead your push for justice, increasing the chances that the negligent party pays for damages ranging from your diminished working capacity to lost wages, pain, suffering, property damage, medical bills, and more.
Cyclist Laws in Killeen, TX
Texas bicyclists are to ride alongside the curb in the same direction as vehicular traffic. The state requires bike riders to have at least one hand on the bike handlebars at all times. Hand and arm signals are to be used prior to changing lanes, turning, or passing automobiles. Only one rider is permitted per bike saddle. However, it is legal for two individuals to ride abreast of one another as long as doing so does not interrupt traffic. Bike riders who hit the streets at night are to have a red reflector or red light along the back of their bike and a white light along the front to boost visibility.
Car Drivers' Rights and Responsibilities to Cyclists
Automobile operators have rights on the road, but they also have responsibilities to those in their vicinity, including bicyclists. Drivers are legally required to acknowledge the presence of bicyclists in Killeen and other parts of Texas. Those driving automobiles owe a duty of care to Killeen bike riders as there is a considerable size difference between cars and bikes.
Drivers are to provide bicyclists with three to four feet of space. Drivers are also required to look for bike riders in their blind spots when riding through Killeen and elsewhere. Every driver is required to pass cyclists with the appropriate level of caution. If an automobile operator fails to provide riders with the proper level of care, a personal injury lawsuit will likely follow, paving the path toward a lucrative settlement or court award.
Cyclists' Rights and Responsibilities
Killeen bike riders have the legal right to ride in the street alongside automobiles. Bicyclists are to ride along the side of the road with the flow of traffic. If turning or changing lanes, the bicyclist is to raise his or her arm on the side where that movement will occur. It is also worth noting that bike riders are to verbalize their presence, ring a bell, or sound a horn when a pedestrian or other party is approaching the bicycle, making it clear that a collision is imminent.
What to Do After a Bicycle Accident
You will be understandably flustered after your bike accident in Killeen. Do your best to collect yourself, think clearly, and ask for assistance. Reach out to the police to file a formal police report. The details of the police report will help piece together the puzzle of responsibility for the accident, making it that much easier for Bill Shirer, Esq., to prove another party's negligence and ultimately help you obtain significant financial compensation in the form of a settlement or court award. 
Aside from reaching out to the police so a police report can be generated and filed, it is also in your interest to obtain medical assistance. Keep in mind, you might not feel whiplash or other significant pain until days or weeks after the accident, so it is better to be on the safe side and visit a doctor as soon as possible. If you were to delay your doctor visit until the latent pain manifests, it would be that much more challenging to prove another party's negligence.
You can do your part to bolster your chances of obtaining a significant amount of money in the aftermath of your bicycling accident by gathering evidence after the crash. Use your smartphone to take pictures of the intersection where the accident occurred, the damage to your bike, your injuries, and the vehicles involved in the crash. Document the license plate number, insurance information, name, and contact information of the driver or other party involved in the crash. If anyone witnessed the crash, reach out to them right away to record a statement with your smartphone. Write down the names and contact information of those eyewitnesses for future reference. The testimony of these witnesses just might tip the scales of justice in your favor.
Elements of a Bicycle Accident Claim
Bike accident claims have distinct elements, starting with the report created and filed by the responding police officer. The responding officer will document the accident and try to determine which party might be at fault. However, liability for the accident might span several parties, including the local government and one or several drivers. Meet with Bill Shirer for a case review, and he will determine whether the facts of your case justify filing a personal injury lawsuit.
Bill will review settlement offers in the aftermath of filing the lawsuit. However, if a settlement cannot be reached, Bill will push for justice in a court of law. Though seeing a case through to trial is more time consuming than accepting a settlement offer, it has the potential to result in significantly more financial compensation. This is the money bike accident victims in Killeen need to get their life back in order. A favorable court award or settlement will help offset your losses ranging from medical bills to lost earnings, diminished earning capacity, pain, suffering, and more. In fact, the money stemming from your personal injury lawsuit will also help you purchase a new bicycle and bike-riding equipment.
Bicycle Accident Statistics in Killeen
Though Texas drivers are fairly courteous, some act negligently, especially when in the midst of bike riders. Texas averages around 3,000 bicycle accidents per year. Those accidents result in around 1,500 injuries per year. Between 40–50 Texans pass away as a result of bike-riding accidents every year.
Best Bike Trails in Killeen
Killeen has some of the best biking trails and parks in the Lone Star State. Make your way over to the Eagle Nature Trail at Central Texas College, and you'll enjoy a peaceful bike ride. Heritage Oaks Park and the Andy K. Wells Hike and Bike Trail are also worth checking out.
Worst Areas for Bike Riding in Killeen
Killeen has its fair share of busy roads and highways. In particular, the intersection of Stan Schlueter Loop and the Central Texas Expressway is especially dangerous. Bike riders in Killen are also advised to avoid Trimmier Road and Bacon Ranch when spinning their wheels through town.
How to Avoid a Bike Accident
Killeen and the rest of Texas are becoming that much more populous by the day, meaning bicycle accidents are likely to occur. However, you can do a couple things to reduce the likelihood of an accident. Ideally, you will wear reflective gear when riding at night or early in the morning. Try to stay on the right side of the road unless turning left or passing a parked vehicle. Wear a helmet along with knee pads and elbow pads when riding through Killeen. Be aware of the vehicles near you, listen to your surroundings as opposed to music or a podcast, and watch out for doors swinging open from parked cars.
Contact the Killeen Cyclist at Law
Bill Shirer, Killeen's Cyclist at Law, is ready to take on your bike accident case. Meet with Bill, explain what occurred before, during, and after your bicycle-riding accident, and he will do everything within the confines of the law to obtain financial compensation on your behalf. The aim of a personal lawsuit is to obtain financial compensation through a court award or a handsome settlement that helps you make as seamless a transition as possible after this egregious injustice. Unlike other personal injury attorneys, Bill is willing to partake in trials and hearings, regardless of how much time they take.
Our Cyclist at Law logs 5,000 miles per year on his bike. Bill even races in the competitive Masters 50+ road division, meaning he has a genuine interest in biking. If you are involved in any type of bike-riding accident in Killeen or another part of Texas, contact Bill today to schedule an initial consultation. You can reach our Cyclist at Law by phone at 866-797-9555 or 972-843-7784 or online.