Flower Mound Bicycle Accident Lawyer
Do You Know How to Handle a Bike Accident in Flower Mound?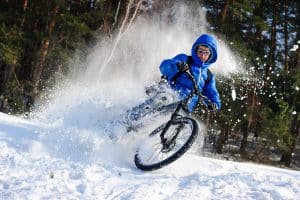 If you were involved in a bicycle accident on trails in Flower Mound, would you know what to do? Besides seeking medical attention for your bicycle injuries, collecting insurance information and taking pictures of the accident, you should also seek out the help of a bicycle accident lawyer in Flower Mound. The attorneys of Cyclist at Law focus on bicycle accident injuries and bicycle law. If you are a member of a Flower Mound bicycle club, an avid biker or if you were recently involved in a recent bike accident, contact a knowledgeable bicycle accident attorney in Flower Mound.
Let Us Help You Claim Compensation From Your Insurance Company
Cyclists can have a near impossible time of collecting a fair or full compensation from their insurance company. Bicycle injuries are often blamed on the cyclist even if a motorist happened to cross over into the biking lane and cause an accident. A Flower Mound bicycle accident attorney can help you understand that:
Your auto insurance plan may not cover damaged sustained in a bicycle accident
Medical pay coverage policies might only take care of "reasonable expenses" for bicycle accident injuries
Personal injury protection is often the best way of receiving compensation for your injuries
A bicycle accident attorney in Flower Mound can help you to better understand your rights and inform you of what you can do to speed up the insurance claim process and improve your chances of receiving a fair and full settlement. Our dedicated attorneys can also help cyclists have their damaged bikes either fully repaired or replaced if need be. Complete satisfaction is guaranteed when Cyclist at Law is at your side.
About Flower Mound, TX
Flower Mound, located in Denton and Tarrant counties, derives its name from the 12.5-acre mound in the center of the city. In the early 1840s, settlers used the mound as a religious camp. The area was permanently settled in the 1850s. Today, the community has blossomed into something more substantial. Since then efforts to create an entire planned community subsided, the municipal government, operated under a council management system, has invested in public parks, extensive hiking trails, and public schools.
In 2012, Flower Mound was ranked number eight in a list of Best Dallas Suburbs by D Magazine. The community is proud of this title. They know all they have to offer — including tens of miles of natural surface and equestrian trails. Few places in Texas offer the same kind of nature experience.
Get in Touch With Us
Don't pay for your bicycle injuries if you don't have to. A bicycle accident lawyer is here to help you in your time of need with expert legal advice and extensive experience. Reach out to us today at 972-392-1249 to get the professional help you need and deserve.