Bicycle Accident Attorneys Serving Cyclists in Dallas
I Ride, I Race, I Represent Cyclists
Contact Me for a No-Obligation Consultation
Contact me before you speak with any insurance companies. I can provide you with a free, no-obligation consultation and talk you through what to say when you speak with the insurance representatives.
About Bill Shirer, Dedicated Cyclist and Bike Accident Attorney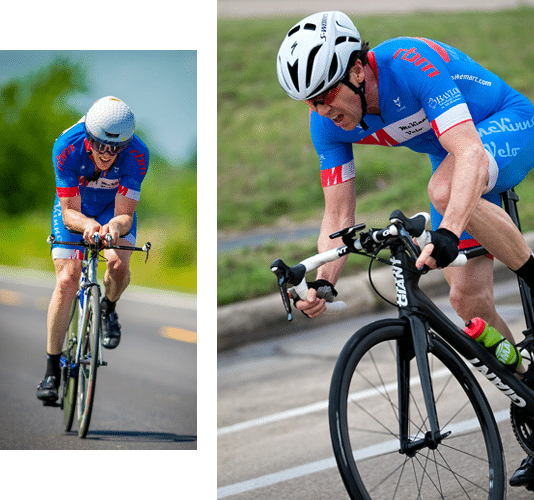 If you are injured while riding your bike, it is important that you contact an attorney who is experienced in both personal injury trial work and cycling. You need to call me, Bill Shirer, Cyclist at Law.
I am board-certified in personal injury trial law and have 28 years of trial law experience. I also have the highest rating from Martindale-Hubbell Peer Review Ratings.
I understand the cycling community and the challenges you face as a cyclist. I ride more than 5,000 miles a year, I race regularly in the Masters 50+ road division, and have been riding and racing since 1987.
I am committed to our sport and serving my clients. I have the knowledge, expertise and experience to help you get compensation for both your personal injuries and the damages to your bike that are caused by a negligent driver or defective bike product.
Even minor bike claims are far more complicated than they were just 5 years ago, and you need an attorney who can navigate the insurance challenges ahead.
Some of the commonly asked questions regarding bicycle claims can be found here, and a general "infographic" overview of the bike claim process can be found here.
Better yet, give me a call at 972-843-7784 or 866-797-9555. The call is, of course, free. If you'd prefer to contact me by email, please click here.
Call Me for Your
Free Consultation
We Handle it All
A personal injury claim can involve many steps. Evidence must be gathered, documents must be filled out correctly and submitted on time, and the case must be presented properly in court. When you work with the Cyclist At Law team, we can handle every step of the process for you to ensure that you have the best possible chance of a favorable outcome in court. We will also evaluate the facts of your case to ensure that you are seeking enough damages to cover your losses caused by the bicycle accident. No matter where in Texas you're located, our team will be with you every step of the way.
What You Should Know About Bicycle Accidents
What to Do at the Bike Accident Scene
Assuming that you're not too badly injured, try to remember to follow these steps at the accident scene:
Call the police.
Take photos.
Gather witnesses' contact information.
Keep a level head.
Seek emergency care.
Call us.
Call Me Before Insurance
Insurance companies are more concerned with protecting their bottom line than they are with protecting you. They may even try to manipulate you into admitting fault so that they can deny your claim. It's important to call me before you contact your insurance. I can walk you through what to say so that you don't make any mistakes that can be held against you.
Why a Cyclist Bicycle Accident Lawyer is Different
We have a different perspective as cyclists since we understand how essential cycling is and how devastating it may be to be struck by a motor vehicle while riding. A bike accident can result in a wide-range of personal injury, from road rash to serious, life-threatening injuries. We also understand what it's like to lose the desire or ability to ride.
Catastrophic and long-term injuries can be typical in severe bicycle collisions. Many cyclists who suffer serious accidents live with the consequences of their injuries for the rest of their lives. Physical scars, paralysis, and emotional trauma are all common long-term impairments.
Our Mission is to help Texas cyclists who have been injured in biking accidents get the compensation they deserve. We are determined to safeguard cyclists' rights, and we will do everything we can to obtain the compensation you deserve for your medical expenses, lost income, and other losses.
In addition, a collision may emotionally and psychologically impact bike riders. Working with Cyclist at Law, a bicycle accident lawyer may assist you in fighting for the greatest compensation possible for your bike accident claim, including tangible and intangible losses like medical costs, pain, and suffering.
At Bill Shirer's legal firm, we are concerned with holding automobile drivers accountable for bike accidents in Texas.
Call us at 800-887-6188 today to schedule your free consultation. We are always available here to help you through this difficult time.
We Serve the Following Cities and the Entire State of Texas
Located in Dallas, my team serves the entirety of Texas. Due to my familiarity with Texas laws and the struggles of cycling around oblivious drivers, I'm the best resource you could reach out to after a bicycle accident anywhere in the state.
Austin
Dallas
Fort Worth
Houston
San Antonio
El Paso
Testimonials
David Hinson
Bill kept me posted on each phase in the legal process and took the time to educate me on every step. Additionally, Bill's knowledge as a cyclist made it very easy for him to understand my situation. I greatly appreciate his support.
oswaldo Altamirano
He works diligently, his staff is always there for you!!! Thanks Bill.
Mitchell Globe
Bill worked hard to come up with the proper settlement amount and then more. Underpromising and overdelivering, Bill is a lawyer I highly recommend to anyone going through a similar cyclist-motor vehicle accident. Extremely responsive and professional, I couldn't imagine a better outcome from a negative experience! Thanks Bill.
Don V.
My experience working with Mr Shirer, and his staff, was nothing less than exceptional. Unfortunately I was in need of his services after being hit by a car that didn't yield right of way to me while on my bicycle. The case was more complex than it needed to be because of the incompetence of the police investigators. However Mr Shirer and his team didn't let that dissuade them. They not only cut through all the problems, and ensured that all my medical & property damages were covered, but they also won a very fair settlement for pain & suffering. They really understand the rights and needs of cyclists. Wish I could give 6 stars.
O Nelson
I couldn't recommend Bill Shirer enough. After my accident he made it so easy to navigate the issues associated with such a traumatic event. As a fellow cyclist he truly understands the hardships one goes through and is supportive through the whole process. His staff is top notch and they really know their stuff. If you ever find yourself an the unfortunate situation of being involved in a bicycle accident don't hesitate to contact Bill Shirer!!!
Simon E.
If you find yourself in need of legal services, Bill is needs to be your go to guy. He understands the process and knows what it means to be a cyclist on the dangerous roads we must train upon. Bill handled my case with speed and professionalism. Put his info in your phone now. Sadly in this day and age, if you are a cyclist it isn't an if you'll need him but a when. Be safe and when that's not enough, call Bill.
Ludovic G.
Mr Shirer knows what he is doing. He gets the job done and is ready to listen and assist whenever needed. If you are involved in a bike accident Mr Shirer is the lawyer you need to go to.